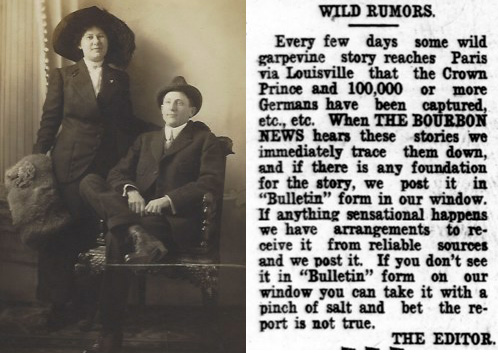 In mid-1918, the Germans launched a series of offensives along the Western Front in a last-ditch attempt to secure victory in the Great War. The fighting was ferocious, but on the afternoon of July 25 the news broke in Versailles, Kentucky that the German crown prince and his massive army of several hundred thousand were now captives of the Allies.
Visiting Versailles was Philip J. Noel, Sr. of Bowling Green, who was busy setting up a local office for his network of insurance agents. Like many other Kentuckians, "P. J." had followed the war news with dread; he was saddened by the recent combat deaths of former president Theodore Roosevelt's son Quentin and, closer to home, the loss of the nephew of a former county sheriff. But now, with this spectacular capitulation of the enemy, perhaps peace was at hand; indeed, wrote P. J. to his wife Blanche, the news had unleashed a tide of pent-up relief.
"Well, I never saw anything like it. Versailles was in an uproar," P. J. reported the next day. On the news of the Crown Prince's capture, "everything turned loose": bands played, people marched, and revelers discharged pistols and shotguns until after dark. Members of the local African-American community "got into wagons and marched all over town"—especially relieved, perhaps, because a week earlier fifty of their number had departed for Army service.
But then things got out of hand, no doubt exacerbated by the popping of gunfire and some generous toasts of whiskey. A runaway horse and buggy, its two young lady passengers having bailed in the nick of time, ran straight into an automobile. The buggy flipped and was dragged along the sidewalk, scattering pedestrians. P. J. had to leap from the car in which he was sitting and duck into a hotel in order to avoid being struck. On the heels of this mishap came four drunken men in an automobile, which also flipped and injured three of them. Next came two fights: one that hospitalized one of the participants, and another between a restaurant owner and a rival confectioner.
Then came the knockout punch. No sooner had the dust settled, P. J. wrote, than "we all wake up to find out that the Crown Prince had not been captured and it was all a mistake." If only the citizens of Versailles had read that day's Bourbon News from nearby Paris, Kentucky, warning about "wild grapevine" stories of the Crown Prince's defeat. Until verified by the paper's "reliable sources," sniffed the editors, such news had to be taken with "a pinch of salt."
P. J. Noel's letter is part of the Noel Collection in the Manuscripts & Folklife Archives of WKU's Department of Library Special Collections.  Click here to download a finding aid. For more collections, search TopSCHOLAR and KenCat, and click here to view our World War I collections.