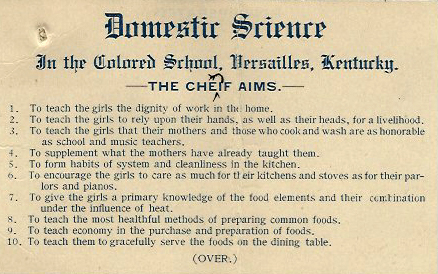 Early in the 20th century, segregated schools labored under the "separate but equal" doctrine, which in practice relegated African-American students to underfunded and inferior facilities. As principal of the Simmons School of Versailles, Kentucky, Principal Thomas J. Smith struggled in 1908 to establish a department of domestic science. Seeking support from white as well as African-American citizens, he reached out to Philip J. Noel of Bowling Green, Kentucky, a native of Harrodsburg whose insurance business regularly brought him to Versailles.
Smith sent Noel a solicitation card that outlined the aims of the department. Among them: "To teach the girls the dignity of work in the home;" "To supplement what mothers have already taught them"; "To encourage girls to care for their kitchens and stoves as for their parlors and pianos;" and "To teach the most healthful methods of preparing common foods." Fifty girls in three classes received instruction in music and drawing as well as cookery.
With lumber supplied by the school board, Smith had planned and constructed a practice kitchen and dining room, but domestic science, of course, required more specialized teaching aids. Money was needed to buy the foods that the girls would practice cooking and serving, and with prices so high, Smith complained, it was difficult to keep an adequate supply on hand. As for the equipment, the program, like a country cook, had to start from scratch. "We began," Smith wrote, "by getting an old stove from the 'Junk Pile,' the teacher's platforms were made into tables, paper was used for biscuit boards and tin cans for rolling pins."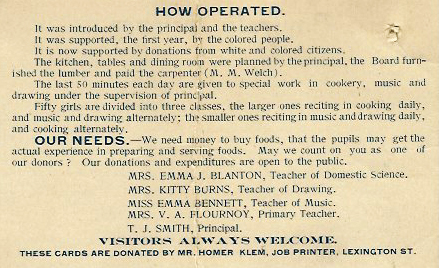 Professor Smith's letters (along with his thanks to Noel, who contributed $25, a sum that would carry the purchasing power of more than $700 today), are part of the Noel Collection in the Manuscripts & Folklife Archives of WKU's Department of Library Special Collections.  Click here to download a finding aid. To search our collections, use TopSCHOLAR and KenCat.