It was an impressive publication, not just in its ponderous title but in the amount of space it occupied on the shelf of the discriminating doctor, lawyer or businessman. In 1909, Philip J. Noel, Sr. of Bowling Green, Kentucky purchased The Great Events by Famous Historians, a 20-volume "comprehensive and readable account of the world's history."
Published at $100 (about $2900 today), Great Events represented a significant outlay, but it came with an attractive bonus. Upon payment in full, the purchaser would also receive, free of charge, title to a 25 X 100-foot building lot in Westhampton Beach, Long Island, "in the centre of the fastest growing and most fashionable suburban district of Greater New York."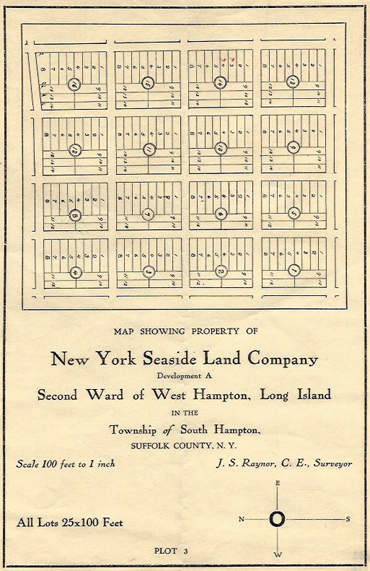 Though he was a successful insurance executive, throughout his life Noel was attracted to these quirky opportunities to leverage his income. He bought stock, for example, in a number of short-lived mining and oil companies, all of which responded to his attempts at due diligence with rhapsodic promises of the riches that lay just around the corner. In the case of Westhampton Beach, the developer, the New York Seaside Land Company, provided a seductive brochure designed to convince small investors that the time to acquire an interest was now. Close to rapidly growing New York City, the area, with its beautiful beaches, railroad connections, and tennis and golf clubs, was already being bought into and improved by both profit-seeking capitalists and old-money types looking to build their summer "cottages." Hmmm. . . it almost seemed as if Great Events by Famous Historians was the freebie that came with the lot purchase, not the other way around; in any event, Noel was enthused enough to procure for himself a reward of two lots.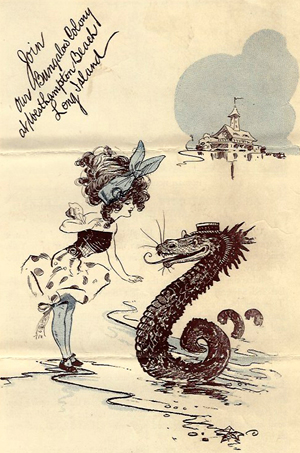 As it turned out, other professionals with money to invest were similarly tempted—to their regret. Just as Noel was taking the bait, a Detroit man considering the same offer was advised by the Rural New-Yorker to steer clear. "There is land in the section worth from $3 to $5 per acre," advised the editors, so that the lots "are worth probably 30 cents each." In 1912, more of the scheme came to light when a Texas doctor consulted the editors of a medical journal. He had first been solicited with a card in the mail, to be signed and returned if he was interested in getting some lots "free of charge." After being induced to purchase a different set of door-stoppers—the equally weighty, 20-volume Author's Digest—for $95, he had then wondered if the lots were "above the water" or otherwise had any value. Imagine that, came the smug reply–"a Texan got caught in a land scheme."
Needless to say, our Mr. Noel found no opportunity to flip his properties for a quick profit. After a few years of tax bills, he wrote rather plaintively to the town clerk asking for the current valuation of the lots and the chances of an increase. Though likely to gain value "in the future," was the reply, they were then assessed at $10 each.
Philip J. Noel's dalliance with the New York Seaside Land Company is part of the Noel Collection in the Manuscripts & Folklife Archives of WKU's Department of Library Special Collections.  Click here to download a finding aid. Search our collections in TopSCHOLAR and KenCat.