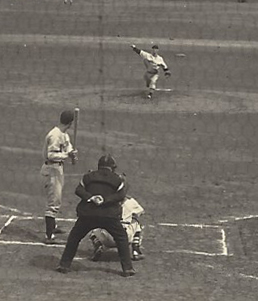 On April 6, 1942, some 2,500 spectators gathered at the Bowling Green Fairgrounds to watch an exhibition major league baseball game between the Cincinnati Reds and the Boston Red Sox. The contest was part of their three-city swing through Kentucky and, for local fans, most certainly a welcome diversion from the accelerating world war.
Insurance executive Philip J. Noel wrote with delight to his son, a physician in Washington, D.C., about his afternoon at the park. Not only had Noel secured a seat in the national press box, he had been perfectly positioned behind home plate to capture a photograph of the game's first pitch from Boston's Lancelot "Yank" Terry. "If you look closely," he boasted, "you will see the ball leaving the pitcher's hand."
Noel was entirely satisfied with the day's tally: 13 hits by each team and a 9-6 victory for the Red Sox. "These two National teams are some ball players," he marveled, "and work just like clock ticks." But Herb Wallace of the Park City Daily News was less starry-eyed. In his opinion, the "big-time boys" had disappointed the fans with their "lack of hustle and enthusiasm." The inflated hits/runs total was largely attributable to this laid-back attitude, a stiff breeze and a smaller-than-major-league-sized park.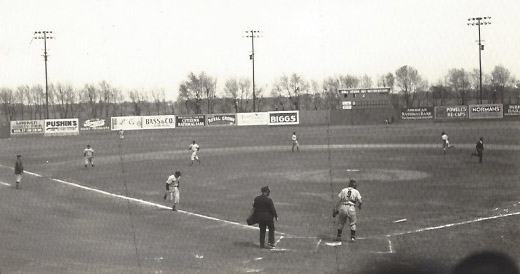 But there was one highlight, all agreed, that made the afternoon worthwhile. While two of the game's three home run shots might not have left a big league ballpark, batting champion Ted Williams, said Wallace, "had the willow behind his wallop." Williams's sixth-inning blast cleared the center field scoreboard, bounced onto the track behind, and put the Sox ahead for good.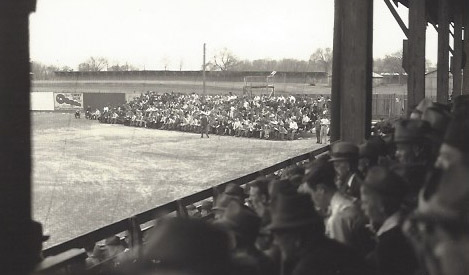 Philip J. Noel's letter to his son and his photos of the game are part of the Noel Collection in the Manuscripts & Folklife Archives of WKU's Department of Library Special Collections.  Click here to download a finding aid. Search our holdings in TopSCHOLAR and KenCat.