A new section has been added to TopScholar:  Kentucky Museum / Library Special Collections Online Exhibits.  The site features images of objects, photographs and documents used in exhibits with more background information than is inclued in a typical museum label.  The site includes a blog widgets for user comments which will enhance our knowledge of objects and photographs.  The Google maps / Google Earth widget allows us place objects and photographs in geographical relation to others.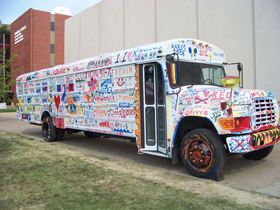 Currently there are two completed online exhibits.  The first is Get on the Bus: 40 Years of Political Activism.  Originally created in 2008 as a traveling exhibit to commemorate the Civil Rights movement, this online exhibit focuses on WKU students' involvement in political causes through the years.
The second is Playing Our Song: Southern Kentucky Notes which highlights the Kentucky Library's Southern Kentucky Music Collection as well as WKU faculty, staff, student and alumni musicians. 
Come and learn more about the Kentucky Museum and Library Special Collections collections.