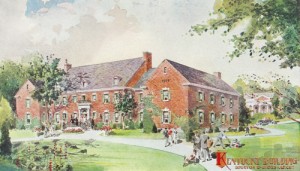 In 1930, President Henry Hardin Cherry handpicked Mary Leiper Moore to collect and assemble historical relics and documents relating to the commonwealth of Kentucky.  This "Kentucky Collection" would eventually be known as the Special Collections Library and the Kentucky Museum, two separate entities operating under one roof to educate the public and preserve Kentucky's history.  In an article about the Kentucky Building from the Nashville Tennessean, Moore stated that "there are not many persons so fortunate as I am, because I am getting a salary for pushing my hobby."
Moore hosted a radio show during the 1940s-1950s based on the collections housed within the Kentucky Building.  The broadcasts advertised the scope of the building's historical collections by exposing listeners to stories like those about the Harpe brothers, the Great Diamond Hoax, the Long Hunters, Mammoth Cave, and the VanMeter family.
Moore's collection captures her quest in finding and assessing collections and contains her correspondence with genealogists and authors from the Depression until the mid-1950s.  Her collection includes correspondence with potential donors and scripts from the radio shows, as well as public relations material relating to the Kentucky Building's dedication in 1936.
In a speech that she delivered in June 1954, Moore encouraged people to use the historical collections she had help amass and expressed her appreciation to the Kentucky Building's donors, stating "…its contents have been made possible for your use through the generosity of Kentuckians, and you are cordially invited to take advantage of the wonderful opportunities offered here." To see a finding aid for Moore's collection, click here. To see other online finding aids, search TopSCHOLAR.  To browse other collections housed in the Special Collections Library and the Kentucky Museum, search KenCat.