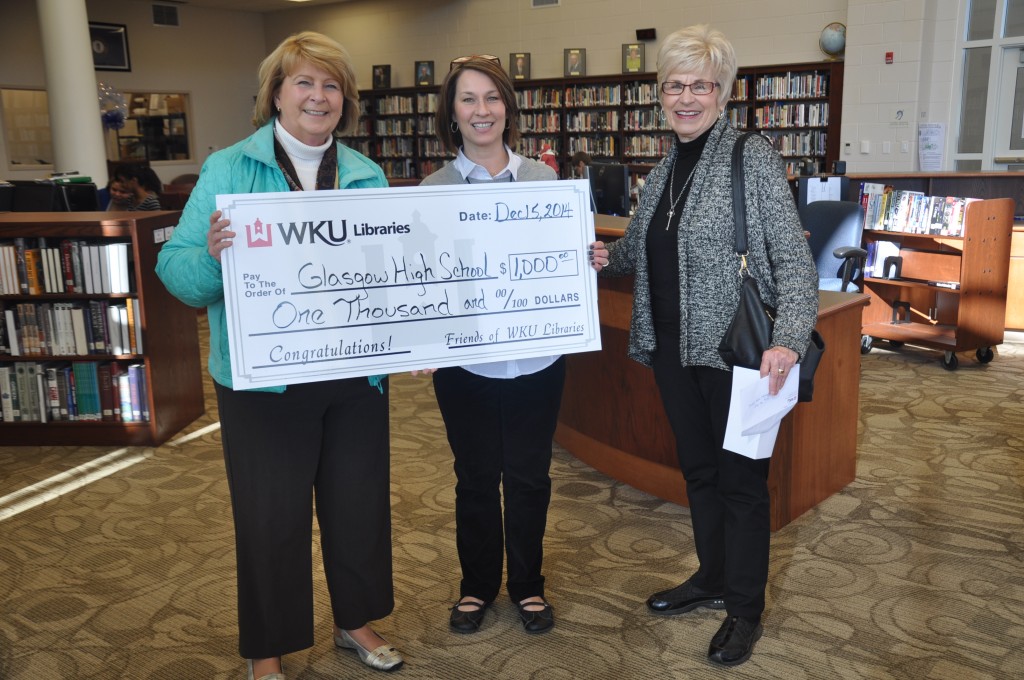 Glasgow High School was recognized on Monday, December 15 for the first School Library Grant sponsored by the Friends of WKU Libraries. WKU Libraries is offering this new grant to middle or high schools in the region with several different purposes, including improving collections or technology, for professional development funds, to improve students' research skills, and to offer reading enrichment opportunities.
Kelly Van Zant is the library media specialist at Glasgow High School who wrote the winning application. Library Advisory Council Chair Pat Porter Miller, Library Advisory Council member Joann Jones, Glasgow High Principal Keith Hale, and WKU Libraries Marketing Coordinator Jennifer Wilson surprised Zant with the winning award on Monday by bringing in a giant check to make the announcement.
"The selection committee was impressed with the scope of the proposal which will affect so many students for countless years to come," said Jones, selection committee member.
According to Zant, the library staff and teachers collaborated to develop a list of current nonfiction titles that will "specifically target the biography section of the library collection based on the needs of AP students; however, all students and teachers will benefit from the additional titles which will be accessible to all in the library."