As archivists we evaluate our collections and process them in order of importance.  That importance can be calculated in terms of rarity, pressing preservation issues or research value.  We also process collections as researchers use them.  This past week we spent time processing the Cherry Statue Committee records for a student working on a capstone project.  This is a small collection just 31 folders of documents and one oversize drawing of the statue base. In archives speak a mere .25 cu. ft. or a single box measuring 15 1/2″ x 7″ x 10″.
In using the collection the researcher found information regarding the time capsule placed beneath the statue on November 10, 1937.  There were two lists of items that had been placed in a bronze box and sealed inside the base.  There was also documentation that indicated a second box had been purchased for duplicates to be placed in the Kentucky Museum. The museum curator brought the box out for the student to see.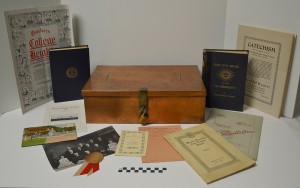 Before the box went back to the Kentucky Museum, we digitized everything in it.  We also were able to identify a few items that had not been duplicated and created the Cherry Statue Time Capsule online exhibit.
Here you will see most of the items that the Cherry Statue Committee felt important enough to store for posterity.  Most of the items reflect Henry Cherry himself and include his two books, several speeches showing his interest in education, agriculture and politics; photographs and program of his memorial service.  The Glasgow Normal and Southern Normal Schools are represented in commencement programs and publications.  Also included are representations of what Cherry meant to the faculty, staff, students, alumni and community in the lists of donors to the statue fund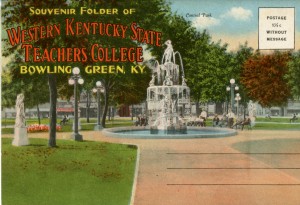 , resolutions of respect and other tributes.  Lastly there are many representations of how WKU had grown and flourished in the 31 years since its founding in 1906 until November 16, 1937 when the statue was unveiled.