Dean Connie Foster announced Library Faculty Tony Paganelli as the inaugural research award winner at the faculty kick off meeting Wednesday, August 19 in Helm 100.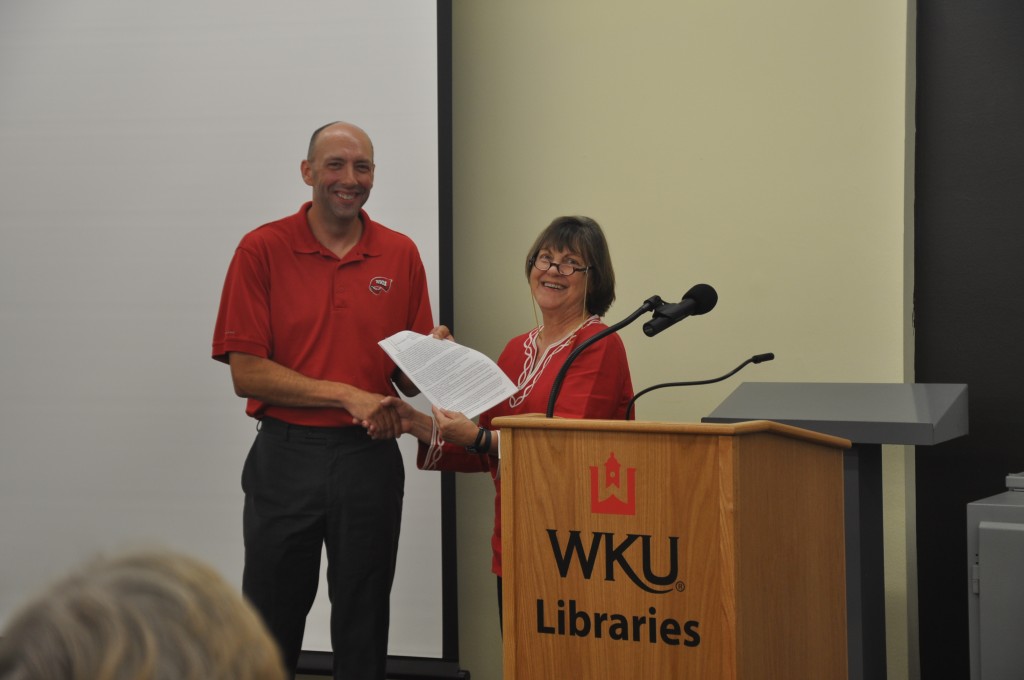 The winning  research instruction session was designed to provide student interaction utilizing the Interactive Video Service(IVS) system for all four campus locations at WKU. The overall theme of the session was based on the NCAA College Basketball bracket system called March Madness, which the session was titled "Research Madness." The information provided for the session is based on the WKU Libraries' Statement of Objectives for Research  Instruction.
The research session placed students in groups, which they had the opportunity to name their group or team. Once the teams were named, students were given instruction on specific research and library information. Following each instruction section, students had to complete a given task. The tasks were organized in three rounds: Elite Eight, Final Four, and the Championship. A grading system was created to determine which team won each round. Please note, all teams advanced to each round. The brackets were released at the end of the session to determine the winner.
The session provided the necessary information to aid students in the research process, while allowing them an opportunity to participate in a fun activity. I attached a full detailed abstract of the session, if that helps better describe the instruction. Let me know if you need anything else.