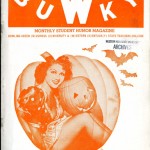 Editor-in-Chief & business manager Lawrence Stone launched the BUKY in March 1936.  The publication statement indicates that it was to be a student magazine published monthly "during the college year except for July and August in the interests of the students of the Bowling Green Business University and Western Kentucky Teachers College."  It cost $.75 for a year's subscription and $.10 per single issue. 
The next extant issue May 1936 indicates a change in the title to BUWKY due to a misunderstanding in the pronunciation.  Although published at the BU, there were more Western students on the rolls of reporters in the early issues each with pseudonyms such as Rusty Rhythm and Norothy Nix.  The magazine covers WKU sporting events, alumni of both schools, and highlights BU students and faculty.  The ads are also an interesting component highlighting local businesses of the period as well as national trends.
The University Archives does not hold a full run of the magazine.  Those that are extant 1936 and 1938-1943 have been digitized and are now available on TopScholar.  They are a wonderful view into student life at both schools.  Please contact the University Archivist at archives@wku.edu if you have more issues of this publication to donate.  Also, check out the University Archives wish list. 
These magazines and other records regarding the Bowling Green Business University are available to researchers in the Harrison-Baird Reading Room of the Kentucky Library & Museum Monday – Saturday, 9 – 4.