James Proctor Knott (1830-1911) was a native of Marion County, Kentucky who practiced law in Memphis, Missouri before being elected attorney general of that state in 1860.  As the country moved toward civil war, he did not adopt the pieties of either side; he disapproved of secession but declined to take a prescribed loyalty oath to the U.S. government, an act that led to his disbarment and a brief stay in prison.  Knott then moved back to Kentucky (his second wife's family lived in Bowling Green), where he became a member of Congress and then governor.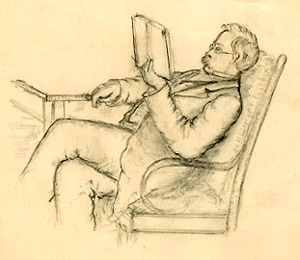 Knott also liked to draw.  A collection of his sketches and cartoons is part of the Knott Collection in the Manuscripts & Folklife Archives holdings of WKU's Department of Library Special Collections.  Executed in pencil, ink and watercolor, they show Knott's appreciation of human, plant, animal and architectural forms.  On one small rendering of a landscape, he has added these lines from Hamlet: "We must speak by the card [precisely, that is], or equivocation will undo us."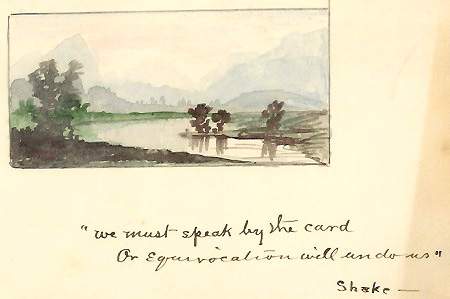 Click here for a collection finding aid.  For more collections relating to artists and cartoonists, search TopSCHOLAR and KenCat.