In Library Special Collections, we have been fortunate to have Angela Arvizu from the Folk Studies Department as a graduate student intern beginning in June. Ms. Arvizu added 171 created the metadata records for Arlis O. Harmon's original compositions of sheet music (which will soon be approved and internet accessible at kencat.wku.edu), researched and documented an exhibit's contents using Past Perfect Collection Management software, and created a case exhibit which will remain on display until January 26, 2016 in the Special Collections Library of the Kentucky Building.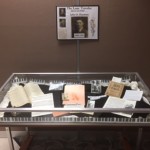 Of her internship, Angela wrote: "The experience of being an intern at Kentucky Library Research Collections was gratifying….Harmon who died in 1992 was a composer and poetry writer from Kentucky. The work done during my internship organized and protected his collection of compositions. I appreciated the opportunity to work with Sue Lynn McDaniel and the Special Collections Library in this project."
Often these internships and student work opportunities serve our WKU students well as they seek employment after graduation. Thank you, Angela, for a job well done!