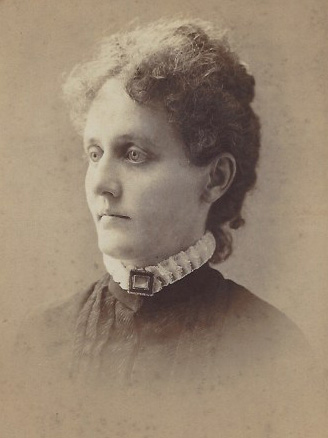 It was summer 1913, and Put-in-Bay, Ohio was gearing up to celebrate the centennial of one of the most important naval battles of the War of 1812. On September 10, 1813, Commodore Oliver Hazard Perry wrested control of Lake Erie from the British Royal Navy, forcing the surrender of a squadron of ships and opening his terse report of the victory with the memorable phrase, "We have met the enemy and they are ours."
Remarkably, at the center of the excitement, and one of the most honored guests expected at the celebration, was "a frail, sweet-faced, silver haired Kentucky woman." Emily Perry was the daughter of the late Reverend Gideon Babcock Perry, who had been born in Rhode Island at the same family homestead as his cousin, the famous Commodore. Emily had followed her father through numerous pastoral postings in the Midwest and South until they reached Hopkinsville, Kentucky in 1867, where Reverend Perry became rector of Grace Episcopal Church. "Miss Em," as she became known, immersed herself in social, cultural and charitable activities, organizing concerts and other entertainments for worthy recipients like Hopkinsville's public school library. Now, with her parents and three brothers gone, she lived with her sister, Maria Efnor, who had been adopted into the family as a child. In addition to superintending the work of her United Volunteers Musical and Literary Society, Emily was a devoted scrapbook-keeper, pulling together newspaper clippings on the vast number of topics that attracted her interest: Civil War history, music, poetry, celebrities, and women as well as men who had made names for themselves in politics, science, arts and culture.
Alas, as proud as she was of her heritage, and despite being promised every comfort and consideration she might have wished for, Emily decided to decline the invitation to the festivities.  At 69 years of age, her eyesight was failing, and that of 82-year-old sister Maria's was completely gone.  Emily instead remained at the family home at Ninth and Campbell streets, ultimately compelled to obey the command on Oliver Hazard Perry's battle flag—"Don't give up the ship."
Papers and photographs of the Perry family, including Emily Perry, are part of the Manuscripts & Folklife Archives of WKU's Department of Library Special Collections.  For more collections, search TopSCHOLAR and KenCat.