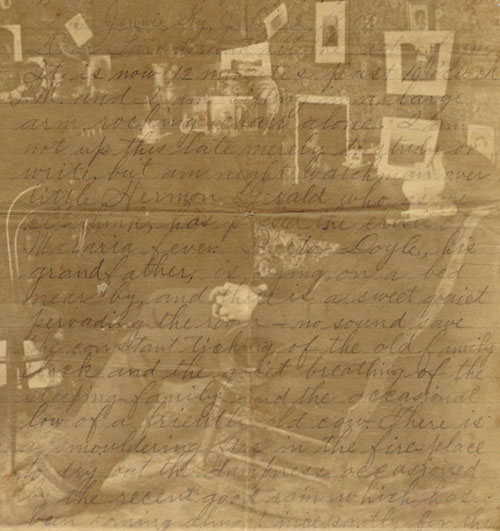 It was just after 10 o'clock on a July evening in 1899 when Roland Patterson started a letter to his parents.  He sketched a peaceful picture.  He was seated in a large rocking chair, with a "sweet quiet pervading the room" – no sounds except for the ticking of a clock, the embers of a fire lit to drive away the dampness of three days' rain, and the "occasional low of a friendly old cow" outside.  Patterson had just returned to Barren County, Kentucky to reopen his small rural school.  He was boarding with a "good, kind, and intelligent family" consisting of  a "tall, rather stooped, dark complected man about 38 years old," his wife, "a pleasant lady of about thirty," and their children, including a son, Hermon.
But Patterson's duties that evening extended beyond preparing for the classroom.  Like others in the community, young Hermon had been visited by malarial fever a few days earlier.  As he worsened, the fearful family called for one doctor, then another, but Hermon slowly began to recover.  Now, Patterson was sitting up as his "night watchman" while the parents and one of the doctors, the boy's own grandfather, slept nearby. 
Patterson had opened his school on the same day Hermon fell ill, but his sense of dread about his own prospects had been allayed when he found 47 young scholars waiting for him.  "I am well and getting along as well as ever in life," he assured his parents.  Now, "amidst this quietude, viewing the slumbering bodies of my friends, meditating upon life and its attendant cares and responsibilities" and with Hermon's crisis past, he was struck by one thought: "that we are very dependent creatures."  For the devout Patterson, support came from God, "who not only watches over us in our unconscious hours of sleep, but safely bears us over life's uneven places."  For the sick boy and his family, however, gratitude was surely due to the young man who sat ready, as he noted, to administer the next dose of medicine in "just one hour and two minutes."
Roland Patterson's letter is part of the Manuscripts & Folklife Archives of WKU's Department of Library Special Collections. Click here to access a finding aid and typescript.  For more collections, search TopSCHOLAR and KenCat.