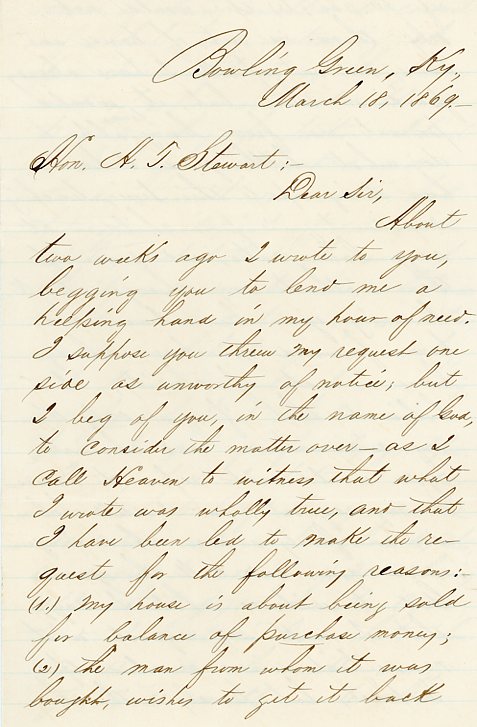 The Manuscripts unit of Library Special Collections recently acquired an unusual letter in which a Bowling Green resident pleads with a wealthy New York merchant to send funds so that he can save his home from a judicial sale and subsequently allow him to continue educating the city's young Irish immigrants.  On 18 March 1869, James Aloysia Timmons (1836-1902) wrote a solicitous letter to Alexander Turney Stewart (1803-1876), a multi-millionaire who operated New York City's A.T. Stewart & Co., one of the world's largest and most lucrative dry goods businesses.  Timmons was born in County Cork, Ireland and had a bachelor's degree from St. Joseph's College in Bardstown and a master's degree from St. Louis University.  In 1863 he came to Bowling Green and established a small, private college with Professors William F. Kouwenberg and John Leonard.
In the letter, Timmons noted that losing his house "would prevent me from being able to do what little good I have been up to this time, teaching my countrymen's poor children at very low rates, and some of them without any charge at all." Timmons announces that he chose Stewart because of his noted "benevolence and…acts of charity." It is clear that Timmons did not know Stewart personally but only by reputation. He declares his cause a magnanimous one: "I make my request with no selfish views or deceitful purposes, but purely with the view of being enabled to conduct my school, and instructing the poor Irish children of this place, most of whom are not able to pay anything for tuition." He ends his letter with a plan to pay off the house.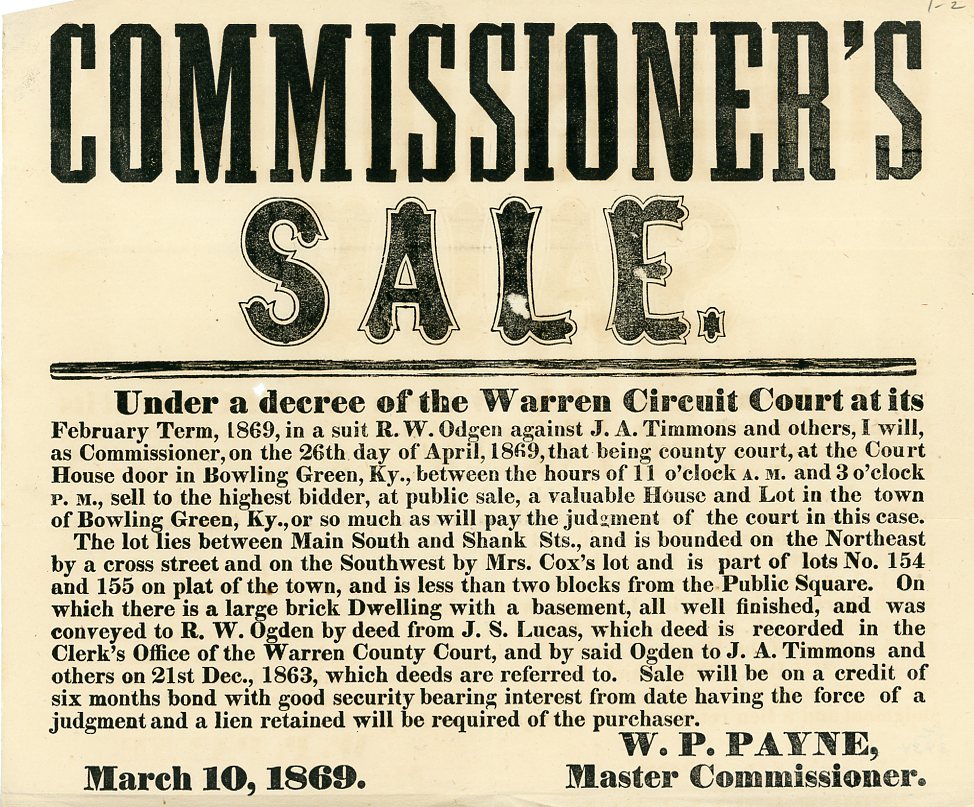 Also included with the letter was a Warren County Commissioner's sale flyer that further elucidates the situation.  It shows that the house's previous owner, Robert Wenn Ogden, a wealthy Bowling Green businessman, had taken Timmons to court for back payments.  The advertised sale was for a "valuable house and lot" two blocks from the public square on Main Street.  The flyer further describes the house as "a large brick Dwelling with a basement, all well finished."
From all appearances, Stewart did not come to Timmons' rescue. James Timmons eventually moved to Lebanon in Marion County where he taught mathematics at St. Mary's College. He and his wife had four children. He died on 5 November 1902 at 66 years of age and was buried in the Saint Augustine Church Cemetery.