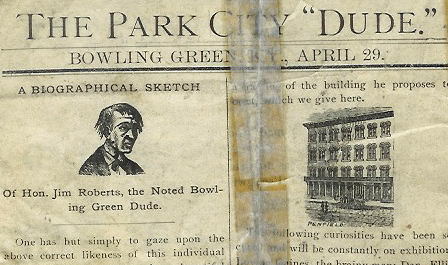 They were some of the rising young men of Bowling Green, the twenty-something sons of bankers, lawyers and merchants.  About 1883, some of these society swells decided to launch a journalistic venture "in the interest of the vast number of dudes of our city."  The product, the Park City "Dude" (Bowling Green, Ky.: Dude Publishing Co.), sought to entertain its readers with humor, anecdotes and parody, the chief objects of which were the "dudes" themselves.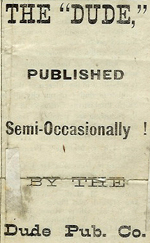 Promising regular biographical sketches of the members of its circle, the Dude first profiled Jim Roberts, a native (we are told) of Hong Kong, an escapee from P.T. Barnum's circus and currently a "knight of the yardstick" at a local clothing establishment.  Next we hear of Solomon "Sol" Cain, a "genial, affable, whole-souled and industrious" young entrepreneur who, having contracted to furnish city businesses with hash and sausages, was in search of "500 fat dogs and 1,000 cats."  The Dude generously offered advertising space at the rate of 75 cents per inch, but directed all complaints to its Grievance Committee, open "from midnight until daybreak."
The Park City "Dude" can be found in the Lissauer Collection, part of the Manuscripts & Folklife Archives collections of WKU's Department of Library Special Collections.  For more, search TopSCHOLAR and KenCat.