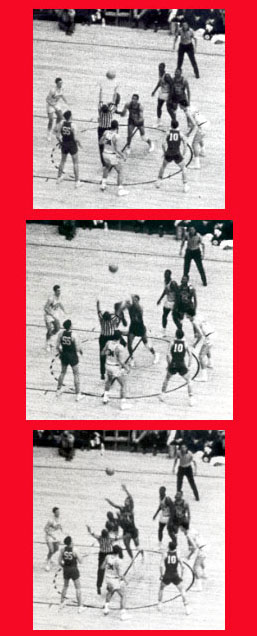 With March Madness now becalmed, here's some Hilltopper basketball history to keep the pulse racing:
It was March 11, 1966. The Ohio Valley Conference Champion Hilltoppers entered the NCAA tournament with a 23-2 record and a stellar lineup that included Clem Haskins, Greg Smith, Dwight Smith, Wayne Chapman and Steve Cunningham.  After a lopsided 105-86 win over Loyola (Ill.), they moved on to the next round against All-American Cazzie Russell and the Big Ten Conference Champions, the University of Michigan Wolverines.
With 10 seconds to go and WKU leading 79-78, the referee called for a jump ball between Greg Smith and Cazzie Russell.  He then tossed the ball off center, directly over Russell's head.  Russell did not jump, but Smith did, tipping the ball with his left hand to center Steve Cunningham.  Russell claimed that Smith "kind of belted me on the lip as he came up and held my shoulder."  Smith only recalled coming down in the scramble and turning, which prompted a Michigan player to point and yell, "Referee, he's pushing!"  The official called Smith for fouling Russell—the first foul on a jump ball that Hilltopper coach John Oldham had ever witnessed.
Russell sank his two free throws, giving Clem Haskins only a few seconds to salvage a victory for WKU with a sixteen-foot jumper.  He missed.  Michigan won the game, 80-79.
The Hilltoppers later maintained that film of the play actually showed Russell fouling Smith.  But the game was in the books.  Clem Haskins bitterly called the incident "the worst call in the history of basketball."
The next night, the Hilltoppers took out their frustrations on Dayton University, 82-68, to take third place in the tournament.  Michigan took second, falling to the University of Kentucky, 84-77.
Search WKU's Department of Library Special Collections through TopSCHOLAR and KenCat.