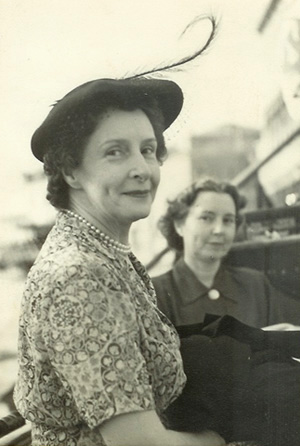 Here is Louise (Carson) Drake, looking fabulous during a tour of Venice's Grand Canal in 1951 with her friend Ann McNally in the background.
Born in Bowling Green, Kentucky in 1894, Louise was descended from Revolutionary War patriots (she and WKU's own Margie Helm shared a great-great grandfather, Thomas Carson).  After graduation from Georgia's Brenau College in 1917, Louise entered law school at the University of Kentucky.  Three years later, she aced the bar exam, scoring the highest of anyone who took the test and earning an invitation to practice before the state court of appeals.
Instead, Louise chose to marry eye, nose and throat specialist Dr. William Preston Drake and immerse herself in the social and cultural affairs of her home town.  Active in the Daughters of the American Revolution (DAR), the Colonial Dames of Kentucky, and Bowling Green's XX Literary Club, Louise also served as the second woman member of WKU's Board of Regents.
A tireless student and author of local history and genealogy, Louise searched archives far and wide to compile materials on her Carson, Porter and Helm ancestors, amassed a roster of Kentucky Revolutionary War soldiers for the DAR's Kentucky Society, and worked with her cousin Margie Helm to preserve an ancestral cemetery.  She also traveled worldwide, looking fabulous.  After her death in 1979, her friend Jane Morningstar praised her "appreciation of life" and her "superior intellect with the faculty of total recall."  Louise, she wrote, "had personal beauty and was always dressed in perfect taste and style. . . .  She was a gracious Southern lady with pride, dignity and courage."
Louise (Carson) Drake's papers, consisting largely of her genealogical and historical research, are part of the Manuscripts & Folklife Archives collections of WKU's Department of Library Special Collections.  Click here to access a finding aid.  For more collections about genealogy, search TopSCHOLAR and KenCat.