It's a dramatic story of a young Bowling Green woman's life during the Civil War, both at home and abroad in Scotland, but it also has some contemporary elements of mystery and surprise.  Come hear retired WKU professor Nancy D. Baird talk about Josie Underwood's diaries at the Kentucky Building on Sunday, October 12, 2014.
In her will, Johanna Louisa "Josie" Underwood (1840-1923) bequeathed her two-volume journal "kept during the Civil War" to her granddaughter.  No one knew the fate of the two diaries until, in 1976, an envelope containing a typed copy of the first volume, together with a copy of Josie's marriage certificate from Christ Episcopal Church, landed in the Postal Service's dead letter office.  For lack of a better idea, the Postal Service forwarded the package to Episcopal Rector Howard Surface, who then gave it to WKU's Department of Library Special Collections.  The original sender, as well as the whereabouts of the original diary, remain unknown.
After years of research and editing by Nancy Baird, the University Press of Kentucky published this fascinating record in 2009 as Josie Underwood's Civil War Diary.  Then, as luck would have it, a Louisville woman purchased a copy of the book because her late husband was an Underwood descendant.  Remembering the box of old family papers she had stored at home, she discovered the second volume of the diary!  This small, leather-bound book begins in September, 1862 as Josie travels with her father, Warner Underwood, to Scotland where he takes up his duties as U.S. Consul in Glasgow.  During her year-long stay, Josie sampled the culture and society of Britain and the continent, hobnobbed with ambassadors and diplomats, and wrote perceptively about Scottish life and people.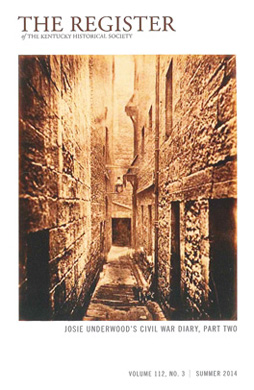 Josie's second diary containing "the rest of the story," as editor Nancy Baird puts it, has now been published as a special issue of the Register of the Kentucky Historical Society, giving us an even fuller picture of her experience of the Civil War and the war's impact on Great Britain and the rest of Europe.
Nancy Baird's presentation about Josie Underwood will be on Sunday, October 12 at the Kentucky Building from 2:30 p.m.-4:00 p.m. (remarks begin at 3:00) and is free and open to the public.  For directions, click here (parking is easy on the weekend).  Copies of the Register will also be available for purchase.