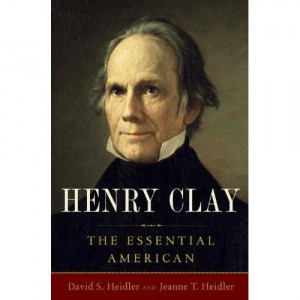 The Warren County Public Library's American History speaker series concludes October 13 with David and Jeanne Heidler, bestselling authors of Henry Clay: The Essential American.
David and Jeanne Heidler have written numerous books and articles dealing with the history of the early American republic, the Antebellum period, and the Civil War
Their most recent work is Henry Clay: The Essential American. The Heidlers present Clay in his early years as a precocious, witty, and optimistic Virginia farm boy who at the age of twenty transformed himself into an attorney. They reveal Clay's tumultuous career in Washington, including his participation in the deadlocked election of 1824 that haunted him for the rest of his career, and shine new light on Clay's marriage to plain, wealthy Lucretia Hart, a union that lasted fifty-three years and produced eleven children.
The Heidlers will speak at Christ Episcopal Church (next door to the Main Library) on Thursday, October 13 at 6:00 p.m.
Free tickets are available at any library location or by email: jaynep@warrenpl.org
WKU Students will be able to swipe their student ID for these events. For more information about these events, call 270-781-4882.