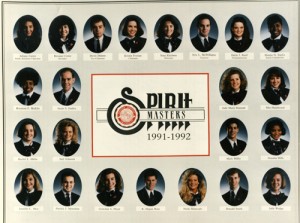 The Spirit Masters have been around for awhile and will be celebrating their 30th anniversary this weekend.
WKU Archives holds several composite photographs of the group such as this one.  The 1991-92 photos are special as the Spirit Masters signed them with well wishes for Elizabeth Esters and WKU President Thomas Meredith.  This image and and notes are now available for viewing on TopScholar.
WKU Archives also hold UA12/2/16 Spirit Masters records.  Mentions of the group are also found in UA4/2 Academic Budgets & Administration and UA12/2/20 Phi Delta Theta records.  These records are available for researchers to use in the Harrison-Baird Research Room Monday – Saturday 9 – 4.