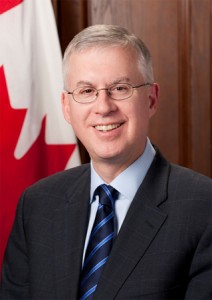 Dr. Roy Norton, Canada's Consul General for the states of Michigan, Ohio, Indiana and Kentucky visited Bowling Green on Monday, May 7 as part of a sweep through the western part of Kentucky. Headquartered in Detroit's Renaissance Center the Consulate promotes Canadian interests-trade, investment, the environment, culture and academic relations in the region.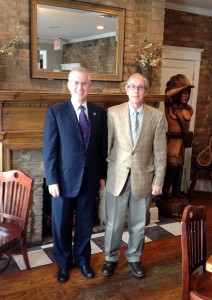 While here the Consul General spoke to the Chamber of Commerce, met with Congressman Brent Guthrie and was interviewed by local media for a TV special. More than 20 Canadian companies are located in this region.
DLPS Head Brian Coutts was a lunch guest of the Consul and they spoke about the Canadian Studies Program at WKU. The Consulate recently awarded a 2011-2012 Canadian Studies Library Support Program Grant in the amount of $2,502.25 to WKU Libraries.