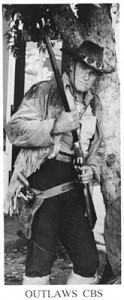 Charles Napier is pictured here as Captain Striker in 1984, click on the image to visit the official Charles Napier website, which includes images of his watercolor paintings.
Charles Napier, a Scottsville native and WKU alumnus, is the tough military officer/ cop/cowboy that was the bad guy on everything you saw in the 70s, 80s, and 90s.  The list of his acting credits is extensive and much too long to include, here, but please check it out on imdb.com.
Napier grew up in Scottsville, served in the Army, and earned a degree in art from WKU. While working on a Master's degree with a plan to become an art teacher, Napier became involved in theater at the urging of his friend, Bill Hancock, and encouragement of theatre program director, Russell Miller.  Recently, while processing Western Players scrapbooks we found a program and photos for Charles' first acting / stage appearance in a 1964 summer theatre production of Love Among the Ruins.  Mary Ray Oaken is also pictured.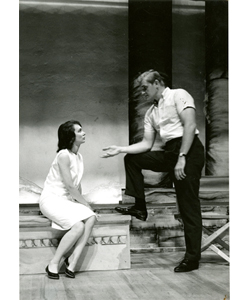 You may also be interested in this interview with Napier available online at Hilltopper Haven.  The interview includes Napier's memories of being a (rowdy) student at WKU from 1957 to 1961.
For information about Charles Napier, Western Players and Summer Players, Russell Miller and more, please search our online database KenCat or visit WKU Archives in the Kentucky Building.
Post written by WKU Archives Assistant April McCauley.