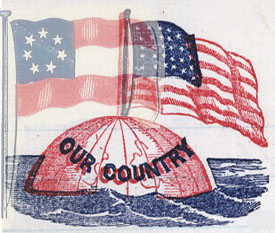 In a letter recently added to the Manuscripts & Folklife Archives collections of WKU's Department of Library Special Collections, a Confederate cavalryman tells his father of the ambiguities of war that confronted his Tennessee regiment after it occupied Brownsville, Kentucky.
First to be deciphered were the loyalties of the local citizenry: "strongly Union & Lincoln," wrote the Rebel, and some "few southern men."  But he detected "a difference between a Kentucky Union man & a Lincoln or an abolitionist."  The principles of the latter made him more willing to fight, while the former, if forced to shed his neutrality, would cast his lot with the South.
Next was the level of the threat facing the Confederates, camped on a hill overlooking the town.  Someone had taken a shot at one of them while he was watering his horse at the Green River, prompting him to empty his pistol and raise the alarm. His comrades saddled and assembled in minutes to meet any attack with "a true Southern reception," but both sides appeared to avoid any escalation.
Then came the question of how the occupiers should assert their authority, and here our correspondent had great praise for the diplomatic skill of his captain, John Bell Hamilton, a Tennessee lawyer and Methodist clergyman.  The "old United States flag was waving here when we came," he wrote, but Captain Hamilton "gave the citizens a chance to take it down and they did so."  There was, however, "no shouting, when it fell, for the Capt had injoined upon us not to, thinking it the best policy."  And likewise, "no demonstration" had accompanied the raising of the Confederate flag in camp.  This "cautious & prudent" commander, wrote his subordinate with evident relief, was "making friends, certainly no enemies."
A finding aid and typescript of this Confederate soldier's letter can be accessed here.  For more Civil War collections, browse here or search TopSCHOLAR and KenCat.