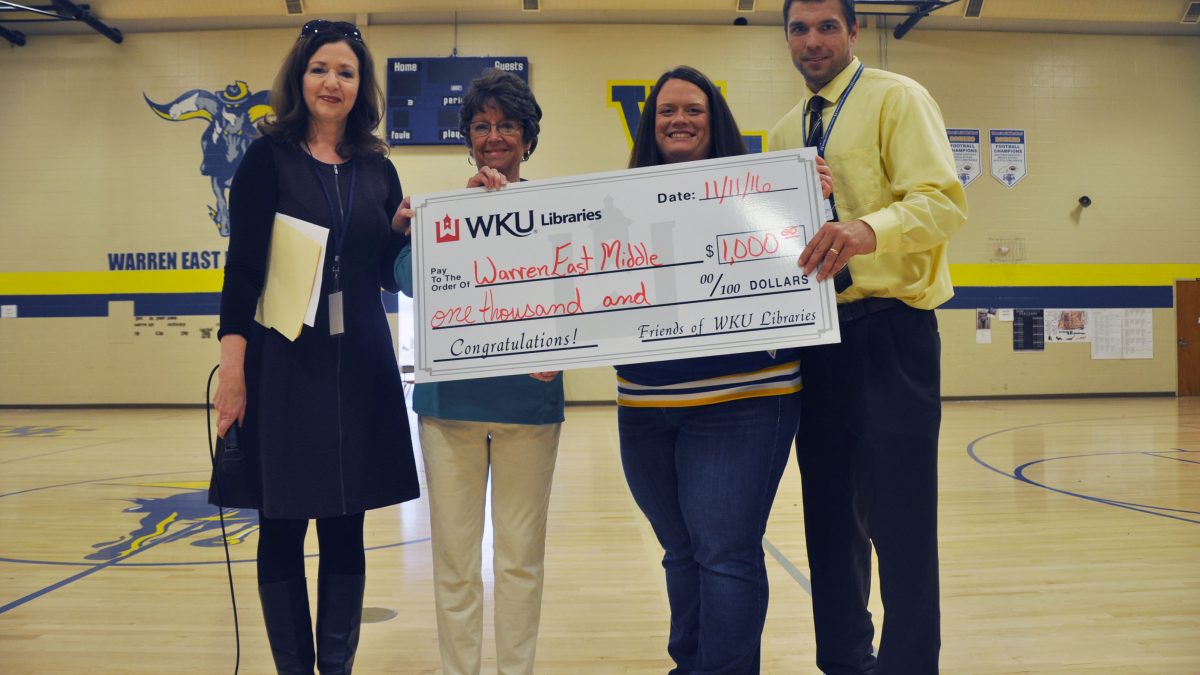 Warren East Middle School was recognized on Friday, November 11 at the school for being this year's winner for the School Library Grant sponsored by the Friends of WKU Libraries. This is the third year WKU Libraries has offered the grant to schools in the Barren River Area Development District. The grant is made possible with funds from Friends of WKU Libraries and is given out to one middle or high school annually with different purposes, including improving collections or technology, for professional development funds, to improve students' research skills, and to offer reading enrichment opportunities.
Library Advisory Council members served as the selection committee for the grant. When reviewing the applications, the selection committee looks at financial need, the nature of the proposal, and the impact it will have on the student body.
Lee Ann Shearon is the Library and Media Specialist who wrote the winning application for the school. According to Shearon, the grant money will be used to improve the technology of the library by purchasing Chromebooks for research and other educational purposes.
"Many students do not have access to technology at home. We have to expose them at school and give as much access as possible to make them college and career ready," said Shearon.
WKU Library Advisory Council members Laura Eason and Nancy Priest along with WKU Libraries Marketing Coordinator Jennifer Wilson attended an afternoon Veteran's Day celebration to make the announcement and present the check for $1,000 to Ms. Shearon and Principal David Cloyd. For more information about the grant, contact jennifer.wilson@wku.edu.