On July 17, 2017, the library hosted 46 students from the WKU Summer Start program. This program is a new offering that lets first-year first-time freshmen start college a month early. The students take two classes in order to create effective study habits and begin experiencing college before the fall semester begins.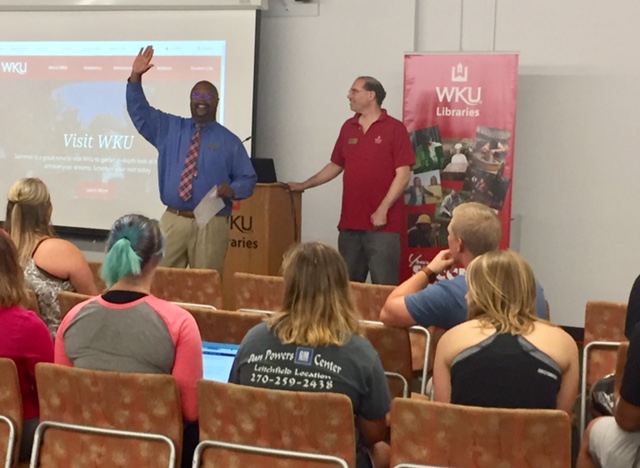 The Summer Start program contains a mixture of social and academic events. The participants work with peer mentors who teach them effective time management and study skills. They also receive introductions to various offices and services on campus that all students need to know about.
Derek Olive and Erin Holderman from Summer Start believe that the Libraries are one of the most important stops on campus. To Derek and Erin, the Libraries are so vital for college success that one of their first stops was the Helm-Cravens Library. In fact, students moved in on Saturday, started classes on Monday, and came to Helm-Cravens Library on Monday afternoon!
The Summer Start students toured the library with library faculty members Dr. Brian Coutts, Dr. Bryan Carson, Government & Law Coordinator Rosemary Meszaros, and Health Sciences Librarian Carol Watwood. Dr. Carson provided handouts and demonstrated the libraries' website.