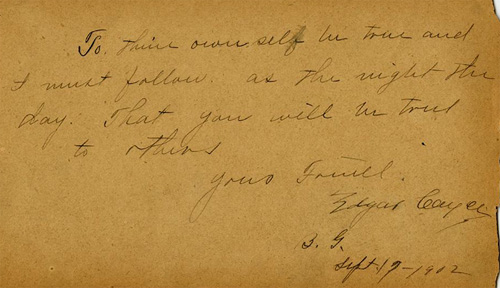 Beulah Collins Ellis attended the Southern Normal School and kept two autograph books.  The first book has a padded cover of brown cloth and is in fragile condition. The majority of the autographs date to 1902 and 1903. Mrs. Ellis' daughter Lena wrote in the book in 1922. Of special note is an inscription by Edgar Cayce:
"To thine own self be true and it must follow as the night the day. That you will be true to others. Your friend, Edgar Cayce, BG, September 17, 1902"
The Kentucky Library & Museum also holds papers regarding Edgar Cayce and his activities in Bowling Green.
The second autograph album dates from 1904-1907 and is autographed by natives of Kentucky, Louisiana, Mississippi, New Hampshire and Tennessee.
Both books have been scanned and are available on TopScholar.  These and other records are available for researchers in the Kentucky Library & Museum.