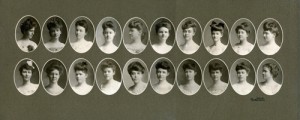 These twenty ladies comprised the Potter College for Young Ladies Class of 1903. To date we have identified Mamie Johnston, Maud Cole, Celeste Cuthbertson and Hallie Brite.  As with many photographs in the WKU University Archives, we need your help to identify the remaining members of the class.  A larger version of this image is available online at:  http://digitalcommons.wku.edu/dlsc_ua_records/293. So take a closer look and let us know if you can identify anyone else. 
Check KenCat for other "unidentified" images and see if you recognize anyone.  It may just be you!
We have also digitized the extant Green & Gold Potter College student magazine published between 1902 and 1909.  We are missing the Vol. 3, No. 3 issue.  Please contact us if you have a copy to donate to the archives.
The Potter College yearbooks called Golden Rod and Talisman are also available online.