My name is Ryun Warren, and I am a junior at WKU majoring in Architectural Sciences. This semester (Spring 2015) I had the opportunity to research, process, and catalog over two hundred sets of construction drawings pertaining to several projects on campus dating from the 1930s to the 2000s (UA30/1/1). Within these documents I was able to see how the design and drafting process has evolved over time, especially in regards to major technological advancements in the field (i.e. Computer-Aided Drafting (CAD) software). The art of hand drafting has almost become a lost art with the efficiency of computer software in a fast-paced society. However, the majority of these sets of construction documents were hand drawn and reveal the level of detail and thought given to each building that is or has been a part of The Hill. From Van Meter Hall to the original Ogden College buildings, from iconic Cherry Hall to Diddle Arena, I was fortunate enough to be able to not only study architectural history but to study the history of our college campus, its story throughout time as told through its construction.
The importance of preserving this story was impressed upon me throughout my stay in the WKU Archives. Proper storage is the only way to ensure that these beautiful drawings withstand the test of time and are available for future generations to study and admire.
With over two hundred sets of drawings stored in various locations, a detailed catalog must be kept. I was trained to enter these drawings into PastPerfect – the cataloging database software used by WKU Library Special Collections to easily sort and process all of the documents, photographs, and manuscripts within its possession. These are available online through KenCat. In addition to PastPerfect, I created and maintained a detailed spreadsheet specifically for the construction documents containing such information as project title, associated buildings, drawing dates, architect(s) of record, and references to the PastPerfect photo entries where applicable (UA1C9).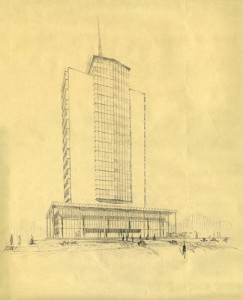 This experience has truly been informative as both a study of architecture and a study of my WKU home. The history of this campus as told through its buildings is arguably as telling as any other means of relating the history of how The Hill came to be. Likewise, the proposed buildings and the thought of what WKU could have looked like if a different design won a bid provokes thought as to why a certain bid may have won and how people would interact differently with campus and with each other.