As we celebrate Black History Month, Library Special Collections would like to spotlight one of Bowling Green's best known sons, Reuben Crowdus, aka Ernest Hogan. Coincidentally, local attorney and historian Ray Buckberry has recently donated a nice gift of research material about Hogan and sheet music written by him to Special Collections. Buckberry was the chief person responsible for researching and orchestrating the effort to get a historical marker erected for Hogan at the L&N Depot in 2009. Here we re-print a short biography of Hogan written by Buckberry for the publication Mt. Moriah Cemetery: A History and Census of Bowling Green, Kentucky's African-American Cemetery (Landmark Association, 2002)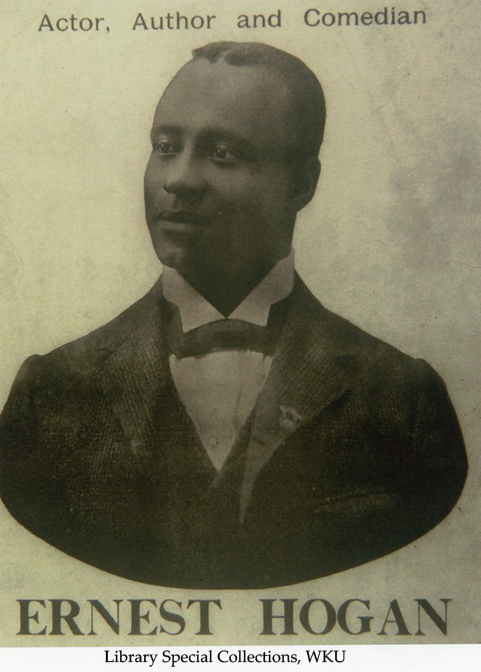 Reuben Crowdus was born 17 April 1865 in Bowling Green, Kentucky. Not much is known about his early life, although indications are that he left home at an early age, joining a traveling minstrel show. One of his first jobs is said to have been as a plantation singer in a low-rent, tent-show version of Uncle Tom's Cabin, a show that launched the careers of many black entertainers.
In 1891, Crowdus adopted his stage name "Ernest Hogan" and later began referring to himself as "The Unbleached American," utilizing both references throughout his career in show business. He wrote the lyrics, music, or both, for approximately 35 published songs. The 1896 sheet music for a song written by Hogan contained a notation that the music is to be performed "with Negro rag." This was the first use of the word "rag" on a song sheet and many thereby credit Hogan as writer of the first piece of ragtime music.
His first big solo starring role in New York City came in 1898, with the show "Clorindy, or the Origin of the Cakewalk." This was the first black show to play in a first class theater on Broadway. A Chicago paper reported that Hogan "is firmly established as the greatest colored comedian of the age." The rising star organized a group of about 20 experienced entertainers in 1905, and called the "The Memphis Students." Their opening show in New York was so successful it was held over for 5 months. This show has been referred to as the first public concert of syncopated music in history.
A long-cherished dream was realized when he mounted his own musical comedy "Rufus Rastus," opening on Broadway in 1906. A critic commented that the depth Hogan brought to his new role took him out of the ranks of "darky comedian" forever in that he had learned to "touch the heart as well as the funnybone."
Hogan became seriously ill and, in 1908, his business friends produced a benefit show in his honor. The show lasted four hours and a noted black performer remembered it as the "greatest assembly of colored actors ever to appear in the same theater and on the same stage in one night."
On 20 May 1909, Hogan died. His remains were returned to Bowling Green for burial in Mt. Moriah Cemetery. By Hogan's request, the local band participating in the service at the Methodist Episcopal Church, played only his favorite ragtime tunes. At the cemetery, the many floral displays were said to represent the most flowers ever received for any funeral in Bowling Green.
Hogan had an infectious and crusading spirit, talent and generosity; he was appropriately referred to as "a Moses of the colored theatrical profession."
To see the finding aid for the Ernest Hogan research material, click here. To see other material in our collections about Hogan, search KenCat or TopSCHOLAR.