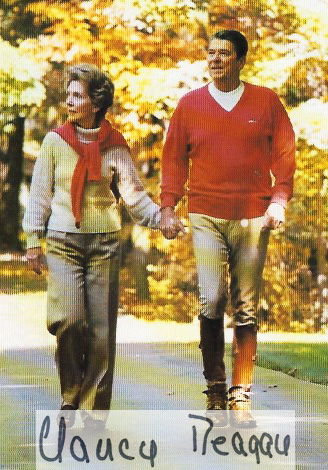 "Without Nancy, there would have been no Governor Reagan, no President Reagan," said aide Michael Deaver when Nancy Reagan died on March 6, 2016. Like many other First Ladies, she was a behind-the-scenes adviser, lightning rod, and icon in her own right.
Two collections in the Manuscripts & Folklife Archives of WKU's Department of Library Special Collections fall at slightly different points on the spectrum of opinion about Mrs. Reagan. As we have previously blogged, the Reagans inspired Logan County native Betty Kathleen Hall to write a kind of joint biography in the form of a narrative poem. As hagiography, her 184-page work has no peer. Here's Nancy at Reagan's 1967 inauguration as Governor of California:
The inaugural ball was stylish and gleaming,
and Nancy was first in the mystical haze:
She wore a white, one-shouldered gown, by Galenos.
all beaded with diamond-like glass daisies.
Nancy's worshipful gaze at "Ronnie" whenever he spoke also earned notice:
while others applauded
Nancy transfixed into a pure adoration.
But Nancy was no shrinking violet, as Hall made clear in her evaluation of the sources of Ronald Reagan's success:
And towering high with an eagle eye,
Nancy's antennas scan political sky.
In 1982, at the request of a Kentucky cousin, Frank Kavanaugh recalled his interactions with "Some First Ladies and Their Husbands" beginning in 1967, when he arrived in Washington as a documentary filmmaker associated with George Washington University's Department of Medical and Public Affairs. His most vivid memories of Nancy Reagan related to the March 30, 1981 attempt on the President's life and a subsequent TV film that recreated the assassination attempt and its aftermath. As Reagan recovered in hospital, he wrote, Mrs. Reagan was "the strongest force in that building. She was aware of every activity or plan surrounding the president, seldom left his side, and could make life miserable for anyone who was not contributing to President Reagan's chances for recovery and comfort"—a role that, Kavanaugh realized, was "not too unlike the role she took throughout the president's life." In her determination to preserve Reagan's image as the "good guy" and "the great and charming communicator," he observed, Mrs. Reagan "could be vicious." Even though she, like her husband, had acted in films, she never saw the highly praised documentary about the attempt on her husband's life. "To her it was a nightmare that she wanted to avoid reliving," said Kavanaugh. The President, on the other hand "loved it. He was back in the movies."
Click on the links to access finding aids for these collections.  For more of our collections about political women, search TopSCHOLAR and KenCat.