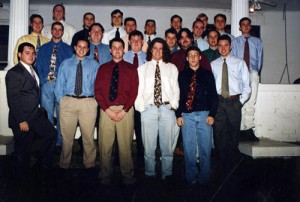 Formed in 1848 at Miami University (Ohio) by six students Phi Delta Theta has grown to over 160 active chapters. The WKU chapter was formed May 7, 1966 when the Phi Delta Chi chapter won their petition to become a Phi Delta Theta chapter. 
Records and photos of both Phi Delta Chi and Phi Delta Theta were donated to WKU Archives this past week.  These records have been processed, described and a collection inventory is now available online at:
http://digitalcommons.wku.edu/dlsc_ua_fin_aid/281/
These and other records are available for researchers to use in the Harrison-Baird Reading Room.  Selected images have been digitized are now available through KenCat our online catalog. 
We are always looking for documentation of student organizations, fraternities and sororities.  There are gaps in the records regarding these groups.