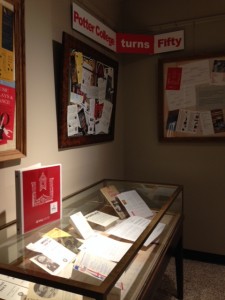 You are invited to enjoy the Library Special Collections presentation of materials produced by Potter College of Arts & Letters during its first fifty years. This exhibit contains a small- but hopefully representative- sample of the PCAL materials available in WKU Archives. The collections contain many more records of the type on display and also many photographs, administrative records, audio-visual materials, posters, and more.
To see more:
search KenCat which serves as a catalog of collections
search TopScholar for scans of full documents from creative writing to scrapbooks and speeches to posters
visit our channel on YouTube
visit the Harrison-Baird Reference Room in the Kentucky Building
contact WKU Archives at 270-745-4793 or 270-745-5830 wkuarchives@wku.edu
visit us on the web www.wku.edu/library/archive
The exhibit is located on the 2nd floor of the Kentucky Building and will be up through the summer.
Post written by WKU Archives Assistant April McCauley.