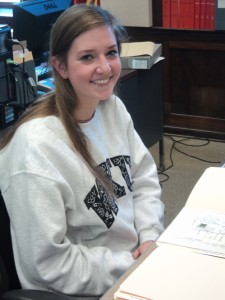 My name is Sidney Hirsch and I am proud to be the first Dr. Delroy and Patricia Hire Intern in the Department of Library Special Collections this fall.  I am a senior at WKU with a double major in history and sociology with a minor in art history.  I have a strong passion for learning and researching history, specifically the history of the United States, and the people who built our nation.  I grew up on a farm in a rural community, so I enjoy learning about the early farmers and settlers of south central Kentucky presented in the Petersen collection, which I have been working with this semester.  I have also been working on a project concerning Joe Downing, an internationally known artist and native of Monroe County, Kentucky.  His abstract works of brilliant colors have hung in galleries from Kentucky all the way to Paris, France, and this collection has been particularly interesting due to my attraction to art history.
The research presented by Dr. Albert J. Petersen Jr., provides a range of slides and notes recording vernacular architecture of south central Kentucky that he hoped would become part of the National Register of Historic Places,
specifically Allen and Monroe counties.  Allen County was formed in 1815 from land which was previously part of Warren and Barren counties.  The architecture represented in the collection reflects the style of each county's earliest settlers and their use of the abundant timber and local resources.  The research conducted by Petersen and his students sited that 48 of the 283 buildings recorded were single pen log cabins, characterized by one room and an exterior brick chimney.  Pictured is an example of this style recorded as the John Cole home.
Monroe County, founded five years after Allen County in 1820, was also a subject of research for Petersen and his geography students.  This area's abundant supply of natural resources, both above and underground, brought the county's population to nearly 5,000 at its establishment.  One of the homes photographed during the study of the county was a home with an interesting history known simply as the "Old Brick Home."  The two-story house is thought to be the earliest brick home in the area having been built around 1806.  Its builder, William Howard, lived in and ran his relatively large farm of several hundred acres from this home.  Howard is also significant in the county's history because he freed his slaves who would eventually go on to found the African American community of Freetown.
Dr. Delroy Hire was born and raised in Monroe County, the son of Osby Lee Hire and Lillian K. Garrison Hire.  He graduated from Tompkinsville High School in 1959.  Dr. Hire is a 1962 WKU graduate and a graduate of the University of Louisville School of Medicine. He is board certified in anatomic, clinical and forensic pathology.  After furthering his education, Dr. Hire enlisted in the Navy and served for more than 20 years.  He retired as the Deputy Armed Forces Medical Examiner based out of Washington, D.C., and now lives in Pensacola, Florida.  "In the Department of Library Special Collections (DLSC) we have unique collections that allow students to literally touch history," said Jonathan Jeffrey, DLSC department head.  "Dr. Hire is providing a scholarship for a student intern interested in the histories of Macon County, Tennessee, and Monroe County and Allen County, Kentucky.  It is more than a magnanimous gesture, it is an investment both in our collections and future curators of similar collections.  Sidney Hirsch is a fine example of Dr. Hire's investment.  This is the first intern scholarship ever offered in our department.  We are thrilled to offer this opportunity to WKU students."