That was the headline of an article in the Students Weekly, October 31, 1935.  The reporter goes on to say:
"Shades of the two-headed dog, Cerebus guarding the gates of Hades an the dragon that guarded the golden fleece are recalled when one seeks to enter the treasure house of the Kentucky Library at Western.  Just above the door is an old muzzle-loader and swinging in the doorway is one of the largest hornets' nest that has been one's fortune to see."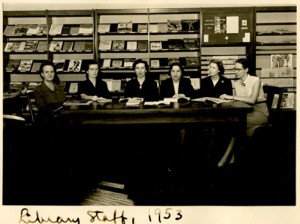 This and other articles about the WKU Libraries' history are now available online in the first two library scrapbooks covering the period 1911 through 1959.  In addition to newspaper clippings, there are photographs of the library, faculty and staff members along with some biographical sketches of early librarians and staff. 
WKU Libraries Scrapbook 1 – http://digitalcommons.wku.edu/dlsc_ua_records/295/
WKU Libraries Scrapbook 2 – http://digitalcommons.wku.edu/dlsc_ua_records/296/
These and other records regarding the history of Western are available in the University Archives and online through KenCat.