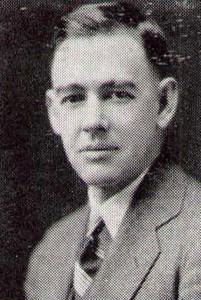 "None of the life of a good man should be lost but should be preserved for the beneficent results it would give posterity."     Alfred Leland Crabb
Alfred Crabb included the above epigram in a letter to a former student prior to being approached by Mary Leiper Moore, head of the Kentucky Library & Museum, about depositing his correspondence and manuscripts at WKU.  Although he taught at Peabody College for Teachers in Nashville for over twenty years, Crabb had deep ties to WKU.  He was born on 22 January 1884, the son of James Wade Crabb and Fannie (Arbuckle) Crabb in Warren County's Girkin community.  He attended the Plum Springs Grade School and later matriculated at Bethel College in Russellville.  He received a life [teaching] certificate from Western Kentucky State Normal School in 1910.  From 1913 to 1927 he served on the faculty at Western.
After completing his doctorate at Peabody, Crabb accepted a faculty position there in 1927 and remained until his retirement in 1949.  He wrote extensively for scholarly journals and was editor of the Peabody Journal of Education from 1932 to 1967.  He is best remembered for his historical fiction novels about Civil War-era Nashville and middle Tennessee.  However, he never forgot Warren County.  Crabb wrote a number of "Plum Springs School" stories, several published in national periodicals, which recalled his early educational experiences.  He also published the locally popular Peace at Bowling Green, a saga that traced the Park City's heritage from the 1790s to the Civil War.
Crabb's manuscript collection consists chiefly of his published and unpublished writings, including a draft of Peace at Bowling Green.  Of interest is a large grouping of manuscripts entitled "Hilltop Stories" which are loosely based on his experiences as a student at WKU.  Anyone familiar with WKU's history will recognize the professors Crabb creates and no one would fail to discern that the president of Hilltop Academy is based on Henry Hardin Cherry.  The collection includes one box of correspondence which includes a number of letters penned by Dr. Cherry as well as Thomas Crittenden Cherry, James Lewie Harman and J. Murray Hill, Sr., and other Bowling Green notables of the era.  Click here to see the finding aid for the Crabb Collection.  To look for other literary and historical collections in WKU's Manuscripts & Folklife Archives search TopSCHOLAR and/or KenCat.