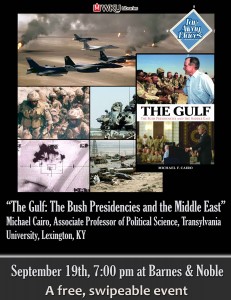 WKU Libraries is bringing in Louisville legend and bourbon expert Mike Veach to discuss topics from his latest book "Kentucky Bourbon Whiskey: An American Heritage" at Barnes and Noble Booksellers on Thursday, September 12 at 7 pm as part of the Kentucky Live! series.
Veach is the associate curator of special collections at The Filson Historical Society and a member of the Kentucky Bourbon Hall of Fame. He brings his expertise to the book and offers an insider's perspective on the history of bourbon. According to his preface, the book has been "twenty years in the making." Author Charles Cowdery, a member of the Kentucky Bourbon Hall of Fame, said in his review, "Kentucky Bourbon Whiskey adds significant new information to our understanding of the history of the Kentucky whiskey industry."
Later in the month, Michael F. Cairo, Associate Professor of Political Science at Transylvania in Lexington, Kentucky, will be discussing "The Gulf: The Bush Presidencies and the Middle East" as part of the Far Away Places series. Dr. Cairo will be speaking on Thursday, September 19 at Barnes and Noble Booksellers at 7 pm.
Dr. Cairo, known for his "impeccable research," has made numerous television appearances as a panelist and political affairs expert, including "Kentucky Tonight" and "Global Connections."
This program is FREE and open to the general public. For more information about upcoming speakers, contact Brian Coutts, Department Head for Library Public Services, at 745-6121.