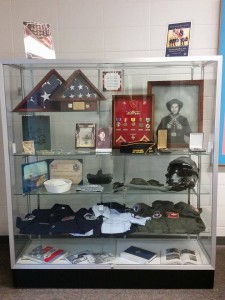 This year, we have been fortunate to have an abundance of loaned items for the Veterans Display. A multitude of veterans and family members of veterans have been kind enough to loan these items to us. People that loaned items range from our very own WKU students and staff members to veterans living in Kentucky and Tennessee. We were also lucky enough to have members of a D.A.V. chapter in Tennessee loan items. Tonya Archey, Military Student Services Director, was very helpful in reaching out to veterans in our WKU community.
The items on display range from pictures to full uniforms. There are two uniforms on display, both from the Air Force. One is a set of Enlisted Service Dress and Blues, and the other is a Flight Duty Suit with helmet and gloves. The helmet even has a COMs unit and oxygen hook-up attached. From the Navy, there is a White Dixie Cup Sailor Cap, which is sitting in front of a picture of the U.S.S George Washington (CVN-73) aircraft carrier. The picture, and accompanying certificate of appreciation, was given to WKU for care packages that were gathered and sent out to the carrier. There is also a lower face flight shield and a flight sleeve from serving as Nato Flight Security at Kandahar Air Field in Afghanistan.
The display contains items from different conflicts and periods. One item on display is a painting of a very old photo of a Civil War soldier; the owner still has the original negative on a tin plate. There are also photos of a WWII soldier, a Marine from the Vietnam War, and an Army soldier from the Vietnam War. The latter has several pictures from training camp and from home before being deployed. There is also a book from training at Fort Campbell for the US Army, Company A, 1st Battalion, 1st Brigade from the Vietnam War era. This amazing book is filled with pictures of soldiers training, as well as pictures of the soldiers similar to how a high school yearbook is setup.
Beyond pictures, there are also many medals and other items. One shadow box has several medals earned by a Marine in the Vietnam War. Near that is a Purple Heart with accompanying ribbon that was given to a Vietnam veteran, a Global War on Terrorism Expeditionary medal given to a Marine Corps veteran, a Task Force Longrifles award for excellence, and a 1st Battalion, 61st Infantry Regiment award for excellence. There is also a D.A.V., Disabled American Veterans, member cap, and two flags in cases. One flag was carried into battle during Operation Iraqi Freedom by the USAF, United States Air Force.
The display is located on the 5th floor of Cravens Library. Items in the display will be available for viewing until Dec. 12th.