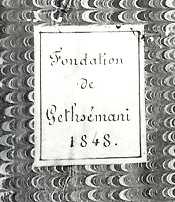 In his address to Congress on September 24, Pope Francis gave special recognition to four individuals who "shaped fundamental values which will endure forever in the spirit of the American people."  One was the Cistercian monk Thomas Merton, "a man of prayer, a thinker who challenged the certitudes of his time and opened new horizons for souls and for the Church."
Born in France, Merton (1915-1968) converted to Catholicism as a youth.  In 1941, he entered the Abbey of Gethsemani, a monastic community founded in 1848 near Bardstown, Kentucky, and spent the next 27 years of his life in contemplation (which included a controversial exploration of Asian religion), social activism, and writing.
The Manuscripts & Folklife Archives collections of WKU's Department of Library Special Collections hold materials relating to the Abbey of Gethsemani, such as a small olive wood crucifix presented to Congressman Frank Chelf in 1954.  Also included are materials collected by WKU faculty member Marjorie Clagett.  As part of her lifelong interest in the French in Kentucky, she researched their Catholic institutions, and in 1949 wrote a paper on the centennial of the Abbey.  She also collected articles, brochures, and a photo essay commemorating the anniversary.
The Abbey's centennial brought renewed attention to Thomas Merton, who published his autobiography, The Seven Storey Mountain, that same year.  In a review of the book, Life magazine found Merton still searching for the peace he desired.  Despite the contemplative atmosphere of the monastery, he said, with farming, maintenance and other chores, there was still "too much movement, too much to do."  Nevertheless, he concluded, "Anybody who runs away from a place like this is crazy."
Click on the links to access finding aids for these collections.  For more on religious orders, including our extensive collections of Kentucky church records, search TopSCHOLAR and KenCat.