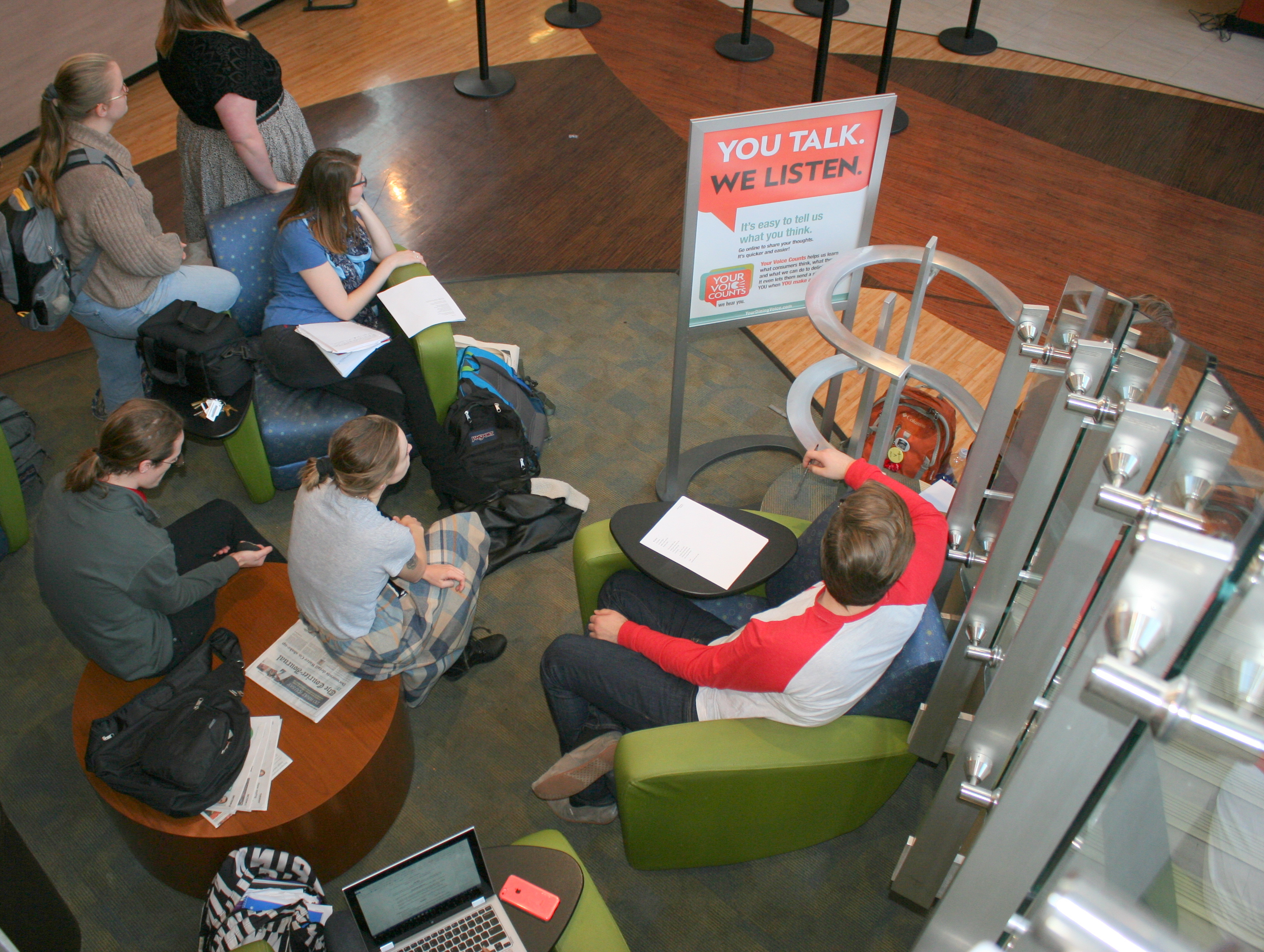 Late in the afternoon on Tuesday, November 10, members of the English Club began trickling through the doors at Java City, notebooks and hand-written pages in hand, backpacks crammed with brick-sized volumes of literature; the words of poets past and present buzzing in the air between the scent of brewing coffee and cinnamon roll samples. You may have seen the "Poetry Open Mic" fliers dotting tables and bulletin boards in the library (if not, you missed out; they were pretty cool).
The English Club and WKU Libraries teamed up to host this open mic on a small stage near the entrance of Java City. Eight student readers representing a broad swath of English interests and specialties took to the stage to read their wares to an audience that waxed and waned during the hour long event. Passersby and patrons tuned their ears to hear passionate verse exploring everything from heartbreak to politics to culinary obsessions to The Simpsons. A choral ensemble even showed up and showered the crowd with some lovely South African-themed song.
The impetus behind an event like this is pretty simple. Open mics and similar opportunities to share the written word encourage students to nix stage fright and get their work out there to a larger audience. It's also just great reading practice to cultivate that poetic voice. Not only does this help poets practice rhythm, it builds community and creates a fun atmosphere where writers can be comfortable in sharing their writing with no judgment or criticism.
Next time there's an open mic, don't be afraid to share your work. You don't have to be a Creative Writing Major – all are welcome. We'd love to have you join!     
Do you have a literary event you'd like to bring to the library? Want to see more Open Mics and the like? Send Sara Volpi an email at sara.volpi@wku.edu, and she'll help you out!