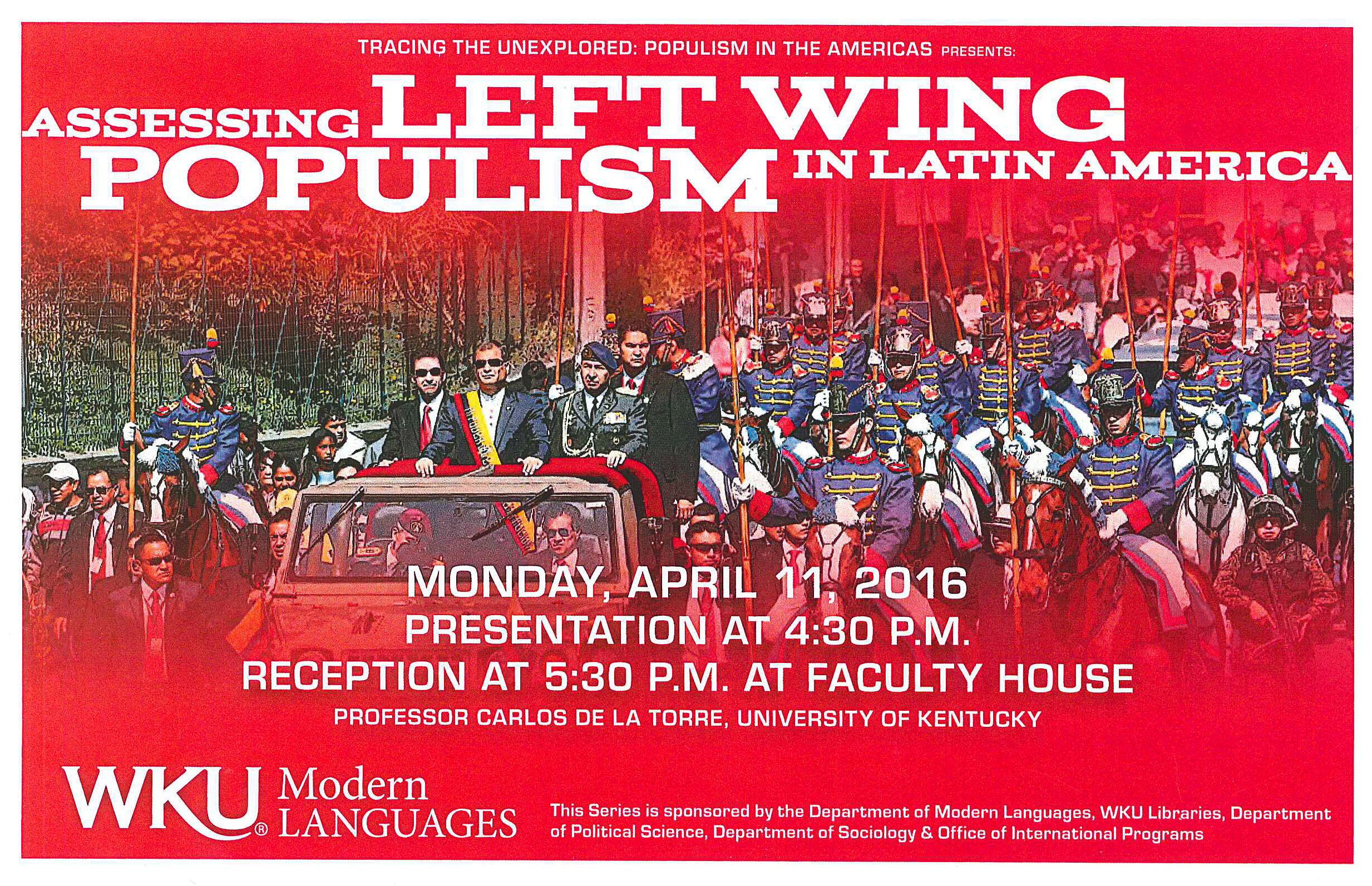 On Monday, April 11 WKU Libraries, in collaboration with the Depts. of Modern Languages, Political Science, Sociology, the School of Journalism and Broadcasting, and the Office of International Programs, hosted Carlos de la Torre, Professor at the University of Kentucky, as part of the Tracing the Unexplored speaker series. A native of Quito, Ecuador, de la Torre moved to the United States in 1979, earned his BA in Sociology in 1983 from the University of Florida, and ultimately earned his PhD in 1993 from the New School for Social Research in New York for his study of Ecuadorean Populism in the 1930s and 40s, focusing on the early career of Jose Maria Velasco.
Before coming to UK in 2011 he previously taught at Drew University and Northeastern University, was a professor in the Facultad Latinoamericana de Ciencias Sociales Sede (FLASCO) in Ecuador, was a Fulbright Scholar, a Woodrow Wilson International Center Fellow, and a Guggenheim Fellow. He now serves as International Studies Program Director and Professor of Sociology at UK and teaches courses on topics like Global Racism, Global Populism, and Media and Politics in Latin America. He has authored twelve books, most recently Latin American Populism of the Twenty-First Century in 2013 and Promises and Perils of Populism: Global Perspectives in 2015, as well as contributing occasionally to Spain's leading newspaper El Pais and maintaining a weekly column in Dario Hoy, Quito's leading newspaper.
De la Torre's talk focused on "Assessing Left Wing Populism in Latin America: The Examples of Venezuela, Bolivia and Ecuador", examing why Hugo chavez Evo Morales and Rafael Correa were elected, the similarities and differences among their regimes, and the challenges to their populismand was held at 4:30 p.m. at the Faculty House.