Holly Tucker, a professor at Vanderbilt University, was the featured speaker at the WKU Libraries' "Far Away Places" speaker series on the evening of Thursday, November 9, 2017, at Barnes & Noble Bookstore. She talked about and signed at the end of the talk her book City of Light, City of Poison–Murder, Magic, and the First Police Chief of Paris.
Photo Album | Sound File | Podcast RSS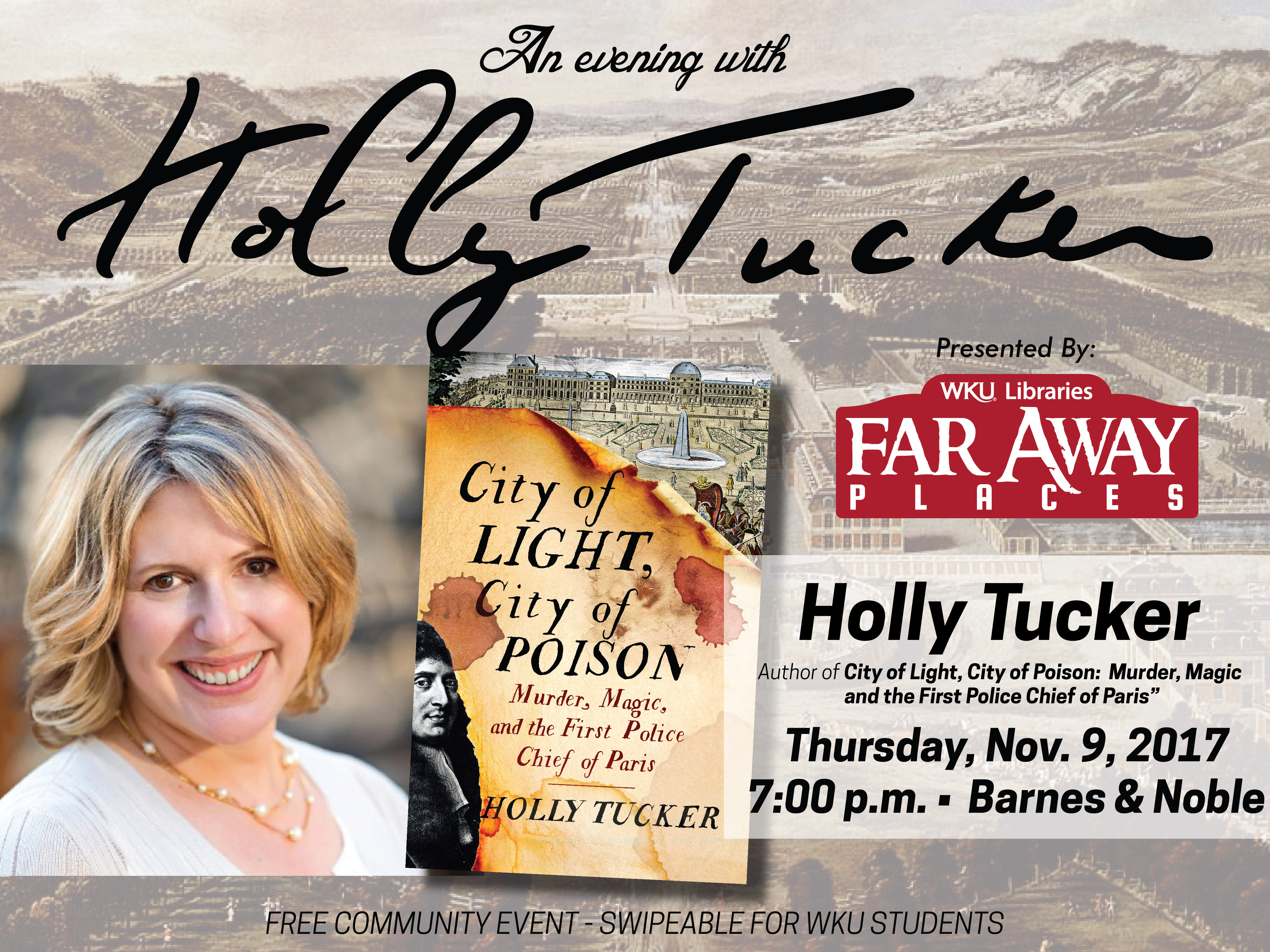 Holly Tucker, who received her PhD from the University of Wisconsin, is a professor at Vanderbilt University with joint appointments in the Departments of French and Italian and the Center for Biomedical Ethics and Society.  She's particularly interested in what lessons the history of medicine holds for our times.  Her writings on those themes have appeared widely in academic and popular journals. Her first book Pregnant Fictions: Childbirth and the Fairy Tale in Early Modern France appeared in 2003.  Her second Blood Work: A Tale of Medicine and Murder in the Scientific Revolution followed in 2011 and was selected as a Best Book of the Year by the Times Literary Supplement and was a finalist for the Los Angeles Times Book Prize in Science/Technology in 2012.
While doing research for her second book she discovered the handwritten notes of the Paris Chief of Police during his investigation of the sordid affairs of poisonings, black magic, illegal abortions and much more, which involved not only the upper crust of Parisian nobility but even some of Louis XIV's mistresses as well.  This became the background for her newest book published this spring  City of Light, City of Poison: Murder, Magic and the First Chief of Police of Paris by Norton.  The various techniques used to poison unfaithful husbands and various tortures used to extract information from those involved suggest that waterboarding is nothing new.  It's a captivating tale.
Holly is the featured speaker at this month's Far Away Places series on Thursday, November 9 at 7:00 p.m. at Barnes & Noble Bookstore at 1680 Campbell Lane.  A book signing followed.