This is it. This is my last week in the Department of Library and Special Collections, and I am very grateful for the time I have spent here. Since I finished working on the Parking Exhibit, which if you have not checked out yet you should, I have moved on to processing files and photos from the WKU Theatre and Dance program. I have to admit I was a little nervous before I started going through everything. There was so much history and hard work that was being showcased in the photos and programs. I wanted to make sure it was all preserved and documented so people years from now could enjoy it. I enjoyed learning about the Western Players.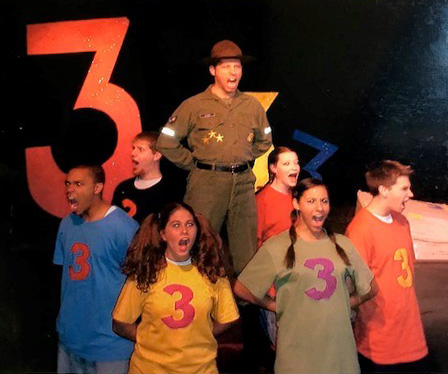 If you can't tell at this point I love photographs. Photographs are so important. Pictures hold memories and moments that we can treasure forever. They are reminders of things from our past as we look forward to our future. The Photos from the Theatre and Dance Department are no different. There were hundreds of photos spanning decades of the Theatre and Dance Department and I got to go through them all. You could feel the emotions from the actors, dancers, and actresses in the photos. Some of my most favorite photos were the ones from behind the scenes. The ones where it showed the actors putting together sets, or the ones taken during a break. Those were my favorite. They were all important.
Another discovery I made going through all of the files was the programs. The programs are absolute works of art. The details and the artistry on them are absolutely breathtaking. One of my most favorites was with the play 'Blood Wedding". The play was directed by Patricia Minton-Taylor and was in the Russell H. Miller Theatre. The detail on the program is hauntingly beautiful. The program was designed by Steven Stines. The next program I liked was from Cabaret in 1984. This program was black and white, it is just an amazing work of art. All of the programs were beautiful. They were just as important as the photographs, and I hope maybe the next exhibit from the Library and Special Collections will be one for the theatre and dance programs. They deserve it.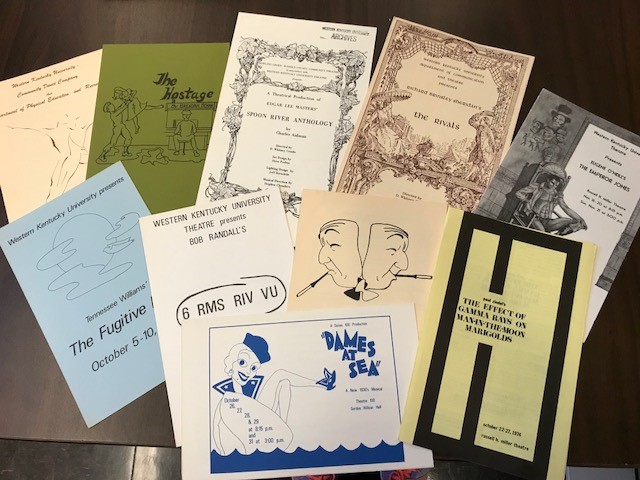 The archival process is important. We have to preserve and document the things that matter most. When I tell people I want to work in the WKU Archives they always have a puzzled look, and go "Why would you want to do that, who cares about that old stuff?" The answer is simple, I care. You should care too. One of the things I learned while processing the Theatre & Dance Programs photos is if archivists don't exist what happens to all of this 'old stuff'. Does it just get thrown away like it didn't matter, or that the people in the photos don't matter. I hope my future job will be in an archives somewhere. Where I can help preserve documents, photos, newspapers, etc. Like I mentioned in my blog post about the Parking Exhibit, our past is something we should all care about. We have to be responsible to the people who came before us and prepare to educate the people that come after us. I have enjoyed my time here so much and I am sad to see it ending but I am so thankful for the opportunity to learn everything I have learned in these past 14 weeks. I want to thank my supervisor Suellyn again. I have learned so much from you and I am so grateful for everything you have done for me over the past few weeks. I want to thank all of the people in Library and Special Collections Department. They have really shown me a lot and for that I am very thankful. I hope to apply what I have learned in the future when I graduate and start my career. If you are interested in archival work volunteer, or apply to be an intern here at the Library and Special Collections. You won't regret it.
Blog post written by WKU Archives Intern Beth Sutherland.