The year 1946 marked the beginning of the "baby boom," a dramatic increase in the U.S. birth rate following the Depression and World War II.  Signs of what was to come, however, had appeared at the outbreak of war, when many couples hastily married and conceived their first child before the husband shipped out for military duty.  Afterward, there was always the opportunity for "furlough babies" to enter the world.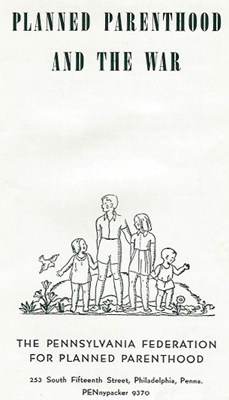 During the war, the question of pregnancy was challenging and complicated, as shown in two collections in the Manuscripts & Folklife Archives of WKU's Department of Library Special Collections.  In 1943, Philip J. Noel, Jr. and his wife Mary Katherine of Bowling Green, Kentucky were newly married and living with their baby daughter in Carlisle, Pennsylvania.  Training to serve as a medical officer with the U.S. Army, Dr. Noel received an invitation from the Pennsylvania Federation for Planned Parenthood to acquaint himself with its mission and services.  The country's war against the Axis, stated its brochure, included "a war against a way of life in which human freedom is consistently violated.  In America, we believe in the right of children to be wanted and well-born, and in the right of parents to plan their own families."  With young men overseas, and healthy women needed to work in war industries and support their families at home, "competent medical advice on the spacing of pregnancies" was an "essential part of the war health program."  Equally important was the "treatment of involuntary sterility" in order to support a mother's well being and build "the world of the future."  Only 16 years old, the organization had established 30 "child-spacing centers" for teaching, demonstration and treatment, and boasted a board of sponsors that included citizens, doctors and clergymen.
Family planning was also on the mind of James C. Browning, an Edmonson County, Kentucky teacher who joined the Army in 1941.  A year earlier, "J.C." had married his wife Lila and they had recently become the parents of a daughter.  Lila, however, had suffered health problems after the birth and was anxious about another pregnancy. In letters from training camp in Arkansas, J.C. was equally anxious to reassure her, for among the many dreams he shared with his much-loved wife—of paying off their debts, buying a small farm and building a life for themselves after the war—was the prospect of "a good time" with her when he made his scheduled return to Fort Knox.  If she didn't want more children, he assured her, "we will try our best and use the best remedies available."  She should go to the doctor and arrange to be fitted with a diaphragm, he instructed; then "[m]aybe you won't be scared all the time."  Inquiring about her progress in successive letters, he even offered to "get the diaphragm for you if you don't want to get it."  He finally advocated a "double preventative"—diaphragm plus condom—as the solution to their problem: then "surely there won't be anything wrong."  The young husband trying to avoid "anything wrong," however, couldn't plan for the attack on his ship off the coast of North Africa that took his life in 1942.
Click on the links to access finding aids for these collections. For more, search TopSCHOLAR and KenCat.