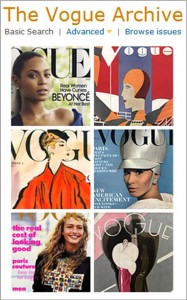 Western Kentucky University Libraries have recently added the complete archives of Vogue magazine to our electronic resource collection. As the publisher describes this useful database:
"The Vogue Archive contains the entire run of Vogue magazine (US edition), from the first issue in 1892 to the current month, reproduced in high-resolution color page images. Every page, advertisement, cover and fold-out has been included, with rich indexing enabling you to find images by garment type, designer and brand names. In addition to the editorial content, all covers, advertisements and pictorial features have been captured as separate documents to allow for searching and discovery. You can also limit your search by journal editor, to find items published during the editorship of, say, Diana Vreeland (1963-71) or Anna Wintour (1988-present)."
This database will be a highly valuable resource across many disciplines, including:
• Textiles and dress
• Fashion history
• Popular culture
• Gender studies
• Photography and graphic design
• Marketing and advertising
This resource if available both on- and off-campus (off-campus users will log in with their NetID and password). We are delighted to be able to offer the Vogue Archive, and we invite all our library users to try it out soon!
Need help? Call Library Reference at 270-745-6176, or ask us online.