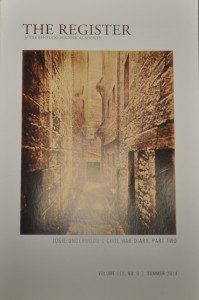 WKU Libraries hosted a reception and book signing for author and retired library professor Nancy Disher Baird on Sunday, October 12 in the afternoon in the Kentucky Building. Housed in WKU's Manuscripts & Folklife Archives, the second of Josie Underwood's diaries was recently published in the Register of the Kentucky Historical Society (vol. 112, no. 3). Baird spoke of Underwood's experiences and travels in and around Scotland, taken from the diary. Baird, a former special collections faculty member and local historican, shared keen observations from the diary to the audience of more than forty regarding Civil War times from a young female civilian's perspective.  
"I think a diary like this helps us humanize people from the past," said David Turpie, editor of the Register. "Facts and figures are important…but it is also important to understand the thoughts and feelings of one individual, in this case someone who had an unusual journey during the Civil War years. While the war occurred, Josie continued to live her life."
When we think of the Civil War, we read about military strategy and movement; however, this diary goes beyond the troops. "Most studies of war concentrate on the military and its heroes. But what about the trauma experienced by civilians left at home—especially in an area occupied by the military," said Nancy Baird, editor of both diaries. "Josie Underwood's diary concentrates on the Kentucky home front during the Civil War; most southern states experienced similar problems." For additional information on the latest diary, email the Register staff at  KHSpublications@ky.gov.