Western Kentucky Un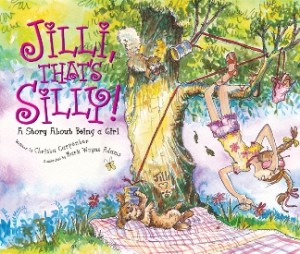 iversity Libraries has selected Jilli, That's Silly! –A Story About Being a Girl, written by Christa Carpenter and illustrated by Mark Wayne Adams, as the winner of the eighth Evelyn Thurman Young Readers Book Award. The national award was created to honor the memory of former WKU librarian Evelyn Thurman, who made significant contributions to children's librarianship and literacy during her 25 years of service to the university and community. Books eligible for the award must be written or illustrated by a Kentucky author or illustrator or have a significant Kentucky-related connection.
"The committee reviewed several great books; however, this particular book stood out," said Deana Groves, selection committee member and department head for Library Technical Services at WKU. "It has a very positive message to be true to who you are, and the whimsical illustrations are very colorful and eye catching."
Christa Carpenter is a mother, a teacher, and a writer. Since childhood she has enjoyed writing plays, poetry, and stories. She lives in Maitland, Florida, with her two children, Nicholas and Jillian, and their funny dog Eddie.
Mark Wayne Adams was born in Dawson Springs, Kentucky, and is a graduate of Murray State University where he received a BFA in drawing. Adams has illustrated over forty books, including The Belly Button Fairy and Polly and Her Pigtails. He has worked for Walt Disney World Company, Sea World Orlando, GSI Architectural Sign Company and is now the CEO of his own business. He currently serves as President for the Florida Authors and Publishers Association.
Both the author and illustrator will be honored at an awards luncheon in November where they will receive monetary awards from Ms. Thurman's endowment and commemorative plaques. While in the area, Carpenter and Adams will visit local schools as part of the Southern Kentucky Book Fest's "Fall into Books" program. For more information about the Evelyn Thurman award, visit http://www.wku.edu/library/awards/evelynthurman.php.
This program is made possible by the Evelyn Thurman Children's Author Fund, the Southern Kentucky Book Fest partnership, and WKU Libraries.