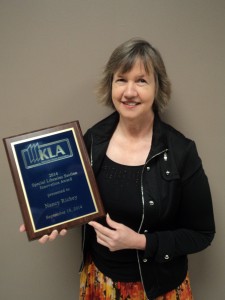 Nancy Richey, WKU Associate Professor, received the  Innovation Award from the Special Libraries section of the Kentucky Library Association (KLA) at their annual meeting September 19 in Louisville, Kentucky. The award recognizes the contributions of an individual who has applied creative ideas or innovative thinking in his/her library which has resulted in significantly changed or enhanced service to constituents.
Richey, a lifelong book enthusiast, was surprised and humbled by the honor. "To be personally recognized by the Kentucky Library Association and/or anything to do with books, is very gratifying," said Richey. "Books were my best friends while I was growing up in a very rural community, and the love of libraries set my career life path."
Ms. Richey is an Associate Professor at Western Kentucky University Libraries, where she serves as the Reading Room Coordinator and Visual Resources Librarian for the Department of Library Special Collections. Ms. Richey is a native of Mt. Hermon, Kentucky, and has been a faculty member at WKU since July 2008. She is a graduate of the University of Kentucky and Western Kentucky University where she received degrees in Information Science and Southern History. Richey has served on various historical boards, including Giles Historical Society, Morrison Park Camp Meeting Site Restoration Board  and the Daughters of the American Revolution, and has authored two local history books in the Images of America book series published by Arcadia Press. Richey has cleaned up forgotten cemeteries, presented local historical information at regional events, and assisted in the restoration of historical grounds in Barren County. She is responsible for collection development for the Kentucky Library for Genealogy and Local History, and for providing research assistance and library research instruction.
A member of the board of directors for the Kentucky Library Association stated, "(Richey) has reached beyond the walls of the library to offer some amazing support to her community through service on historical boards and in support of historical renovation…(her work) makes her quite a role model to others wanting to provide innovative, valuable outreach and expertise to their communities."