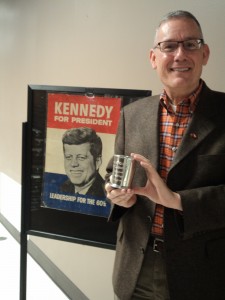 Professor Jonathan Jeffrey, department head for Library Special Collections and coordinator for Manuscripts & Folklife Archives, recently was awarded the 2014 Kentucky History Award in Frankfort, Kentucky for his efforts on the JFK Memory Project. The Kentucky Historical Society sponsors this program to recognize outstanding achievements by individuals and organizations throughout the commonwealth. Jeffrey was recognized during the Kentucky History Awards ceremony on Friday, November 7, at the Old State Capitol in downtown Frankfort.
The JFK Memory Project, organized and led by Jeffrey, was a special effort to collect people's memories of two events: John F. Kennedy's campaign visit to Bowling Green in October 1960 and his assassination on November 22, 1963. During a five-month period, Jeffrey encouraged anyone to forward their remembrances to the Manuscripts & Folklife Archives unit of WKU Libraries for permanent retention with intent to capture a clearer picture of his local visit and to demonstrate how national/international events affect people at the local level.  As a result, 130 responses were compiled, including numerous emails, 27 photographs, 14 personal interviews, news clippings, and various campaign paraphernalia. Materials are available through WKU's digital archives, TopSCHOLAR.
Jeffrey, a native of Texas, has been at Western Kentucky University Department of Library Special Collections since 1990. He has published numerous popular and scholarly articles and mongraphs related to local history, architecture, women's history, the Shakers, and the history of the Commonwealth's libraries. His most recent book is Stock Car Racing in Bowling Green. He has served on numerous boards for Kentucky historical organizations, and has been recognized with various awards, including the Historical Confederation of Kentucky's Award of Distinction, WKU's Outstanding Public Service Award, and WKU's Jefferson Award for Public Service.