The Southern Kentucky Book Fest partnership announced Kiran Bhatraju as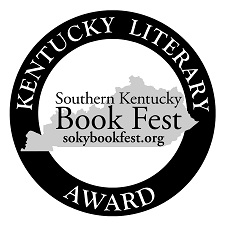 the winner of this year's Kentucky Literary Award for his book Mud Creek Medicine: the Life of Eula Hall and the Fight for Appalachia. First awarded in 2003 and reintroduced in 2012 after a brief hiatus, the Kentucky Literary Award is given to an author from Kentucky or one whose book has a strong Kentucky theme. Fiction and non-fiction books are recognized in alternating years.
From the publisher's description: "Mud Creek Medicine chronicles life of an iconoclastic woman with a resolute spirit to help her people. Eula Hall, born into abject poverty in Greasy Creek, Kentucky, found herself, through sheer determination and will, at the center of a century-long struggle to lift up a part of America that is too often forgotten. Through countless interviews and meticulous research, Kiran Bhatraju deftly traces Eula's life from impoverished hired girl to community activist… Eula's story shows how one woman could make a difference through a clear-eyed understanding of the nexus between politics, wealth, labor, and disease."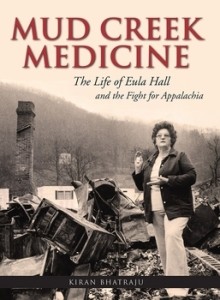 Bhatraju is a native of eastern Kentucky. His father, an immigrant from India, worked as a physician with Eula Hall at the Mud Creek Clinic and Pikeville Medical Center for two decades, where Kiran first met Eula Hall. Bhatraju began his career working on poverty issues for Congressman John Yarmuth (KY-3) on Capitol Hill where he first began researching Eula's life. His writings have been featured in various magazines and newspapers including The Courier-Journal of Louisville and the Lexington Herald-Leader. He is currently Founder and CEO of Arcadia Power, a renewable energy company, and he is working on his second book, an oral history of twentieth century immigrant physicians throughout the US. Kiran lives in Washington, D.C. with his wife Sara.
"Heroes are not perfect, even in comic books.  In Mud Creek Medicine, author Kiran Bjatraju portrays Eula Hall as a paradox–the compassionate woman committed to the medical welfare of those in her region of Appalachia but infused with passion, righteous anger and occasionally exhibiting crude behavior.  She finds ways to get things done, regardless of opposition from the establishment, neighbors, and even her own family.  Despite the sometimes trying circumstances of Eula's life, this well written biography documents a woman who cares, perseveres and triumphs," said Jonathan Jeffrey, Department Head for Library Special Collections and member of the selection committee for the award.
The award announcement was made at the Knicely Conference Center at the Southern Kentucky Book Fest Meet the Authors Reception on Friday, April 17–the night before the main Book Fest event. Bhatraju was recognized with a commemorative certificate and a monetary gift.
The Southern Kentucky Book Fest partners include Barnes & Noble Booksellers, Warren County Public Library, and the Western Kentucky University Libraries.  The award was made possible with the generous support of Friends of WKU Libraries. For more information about the award go to sokybookfest.org.